Natural apple cider vinegar, young pine needles and shoots, multifloral honey. Recipe for coniferous oxymel, a potion for immunity based on natural, living apple cider vinegar
Oxymel (oxymel) is an old recipe for a home remedy whose properties were appreciated by the ancient Romans and Greeks. Oxymel is a mixture of honey and vinegar, to which, depending on the intended effect, herbs and other products with health properties can be added.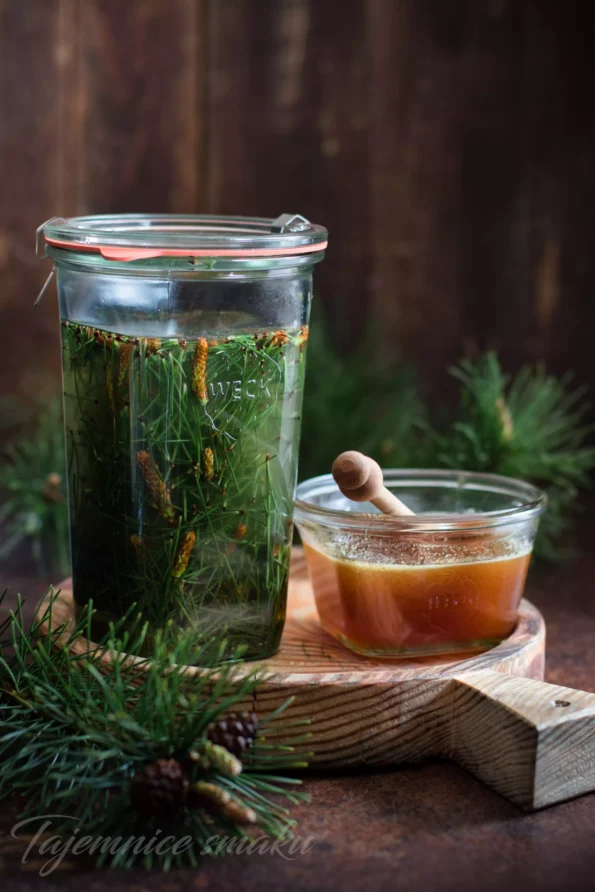 The recipe for coniferous oxymel comes from the book Octy by Magdalena Mildner. It is a tasty and valuable oxymel that can be made from pine, spruce or fir needles. I added a handful of young pine shoots to my pine version. According to information from the book, oxymel has antibacterial, antiviral, and improves immunity. It is usually taken 1 - 2 tablespoons a day.
Preparation of oxymel is very simple, but first you need to prepare needle-flavored vinegar, adding honey to it at the end. Ready coniferous vinegar has an interesting taste. You can add it to salads, marinades, so it's worth keeping some of it for culinary use.
An important ingredient is, of course, vinegar, it should be natural, of good quality. I recommend making your own vinegar, it's not difficult, here's the recipe for home-made apple vinegar  < /p>
INGREDIENTS
natural apple cider vinegar
2 cups chopped pine needles (or spruce or fir)
a handful of young pine shoots - optional
multiflower honey
EXECUTION
We choose this year's young growth, for me it is a pine from my backyard garden.
Peel the needles from the twigs, optionally add young pine shoots, rinse and drain.
Chop the needles, place them in a jar with the shoots and pour the vinegar over them so that they are covered.
We leave the macerate in a cool place for 4 weeks.
Every few days, shake the jar to mix the contents.
After a month, strain the vinegar into a clean large jar.
To the strained vinegar we add the amount of honey we got, or twice as much, it's up to us.
Leave the mixture in the fridge for a week so that the ingredients combine well.
We store ready oxymel in the fridge.
also check
Comments