OCTY book - Magdalena Mildner. Homemade natural vinegar, secrets of fermentation and recipes
Natural vinegar is tasty and healthy, besides it has a wide and practical application, it is used as a cleaning, care or preservative agent.
Natural real vinegar is a treasure. So let's learn the art of home-made vinegar step by step.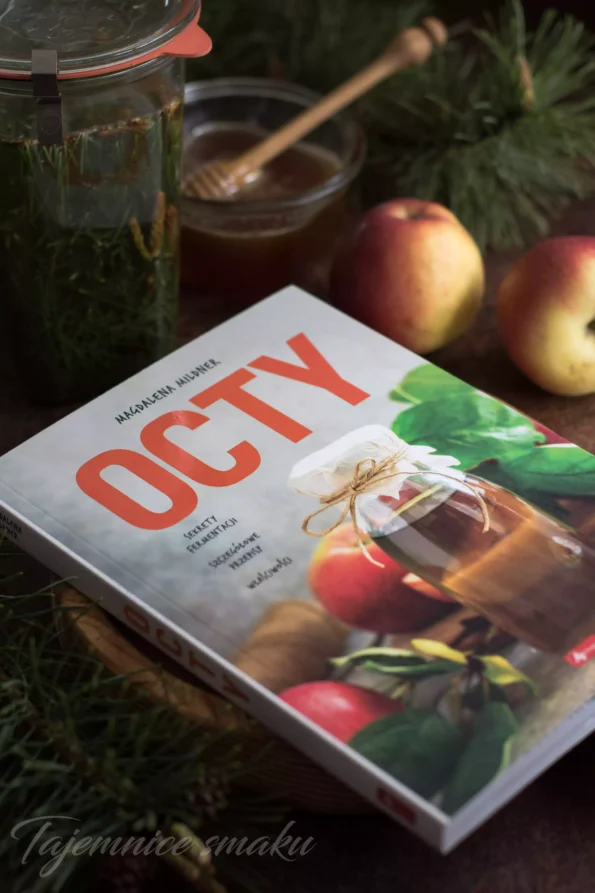 See for yourself that home-made vinegar is not that difficult!
Making vinegars at home is not that difficult, but it is worth learning the secrets of fermentation and maturation to avoid any surprises accompanying these processes. The reward will be joy and satisfaction from your own product with a beautiful smell, color and desired properties.
Magdalena Mildner - naturopath, phytotherapist, enthusiast of natural lifestyle and Ayurveda. He conducts lectures and workshops with the use of herbs in the Silesian Beskids and at the Center for Holistic Studies at the AG in Katowice. He writes articles about herbs for the "Harmonia" magazine, and is a frequent guest on TV shows.
The author of the guide has many years of practice in the preparation of vinegars, and she shares her knowledge in this book. Step by step, he shows the process of home-made vinegar, tells how to avoid a possible vinegar disaster. It gives recipes and possible uses of vinegars for health, cosmetic, culinary or utility purposes.
This book will show you how to easily make vinegar at home. You will learn the types and stages of acetic fermentation. You will learn what is the best way to make vinegar, what tools to use and how to store ready-made vinegars to keep their properties.
In the book you will find:
Everything about vinegar and more - a short history and interesting facts about vinegars, description of the vinegar fermentation and maturation process.
Recipes for homemade vinegars and vinegar macerates - simple recipes for fruit, vegetable and herbal vinegars. Ideas for vinegar macerates, i.e. flavored vinegars.
Vinegars for health and beauty - recipes and tips for using vinegars for health purposes, as well as recipes for home cosmetics
Vinegar in the kitchen - recipes for delicious dishes with vinegar.
Vinegar at home and in the garden - what can and cannot be cleaned with vinegar cleaning with vinegar and some garden tricks
Octy, Magdalena Mildner, Dragon
Thank you to Dragon Publishing for providing me with a review copy.
also check
Comments