Homemade apple peel vinegar for apple pie. Apple pie vinegar on the skins. I cook, I don't waste.
The secret to a delicious apple pie is choosing the right apples. I believe that the best apple varieties for apple pie are gray reneta or antonówka. These are old varieties of apples, which are increasingly difficult to buy and therefore not cheap.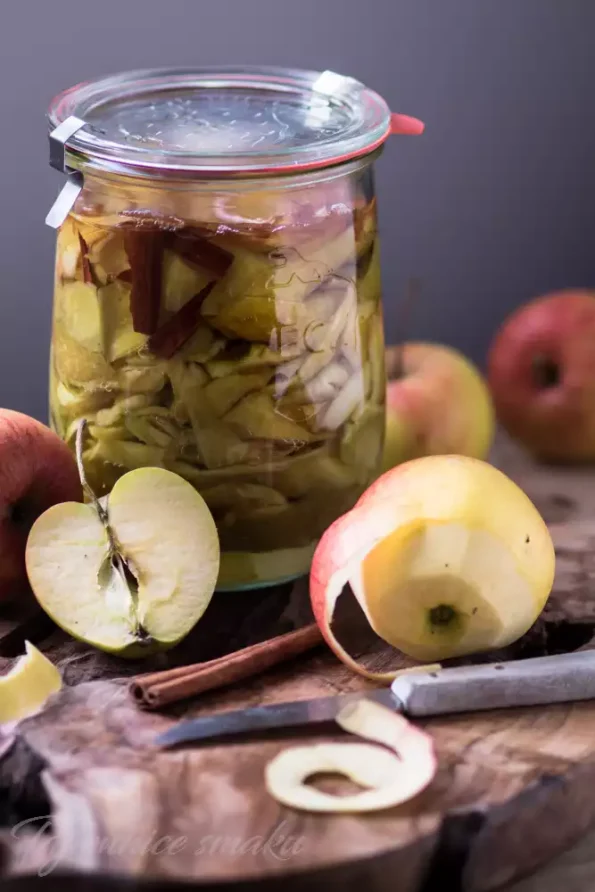 For my favorite apple pie I need 2 kg of apples. Usually, after peeling the fruit, I was left with about 300 g of skins and I felt sorry to throw them away, even to the compost. This is how the idea for apple pie vinegar was born, i.e. vinegar on apple pie peelings. Before the apple pie is baked, we'll have time to put the vinegar on and clean up.
Let's not throw food away, let our kitchen be zero waste.
INGREDIENTS
Apple peels, peels (I used 2 kg of apples to make about 300 g)
500 ml of water
25 g of sugar
a piece of cinnamon bark - optional
if we have, we can add 20 ml of home-made apple cider vinegar starter to speed up fermentation
EXECUTION
Stir the sugar until it dissolves in the boiled water.
Place the apple peels in a large jar, add a piece of cinnamon bark and pour over the lukewarm, sweetened water.
Optionally, we add a starter in the form of homemade vinegar. A bit of such vinegar will speed up fermentation.
Press the skins so that nothing flows onto the surface of the brine, otherwise the set will start to mold. We can press it with a small plate, a glass lid from weck-type jars, a stone, a small jar filled with water or special pickle clamps.
Cover the jar with a cotton cloth or gauze folded several times, secure it with a rubber band or string and leave it in a warm and dark place for 2 to 4 weeks.
It is worth stirring the contents of the jar once a day at the beginning of fermentation.
It is important to feel the right moment when we should separate the liquid from the cuticles.
When is the vinegar ready? Fermentation ends when the water stops foaming and no bubbles form. Ready vinegar will be recognized by its slight turbidity, pleasant smell and, of course, taste. We can look into the jar from time to time and try. A well-made vinegar should have a pleasant apple smell and a sour taste.
Drain the ready vinegar from the skins and pour it into bottles.
We let it ripen preferably for a few months or even years.
also check
Comments