The best apple pie in the world, my favorite!
Apple pie or Charlotte?
A classic apple pie is a cake made of shortcrust pastry layered with apples, preferably  wine apples, such as gray renetta or antonówka.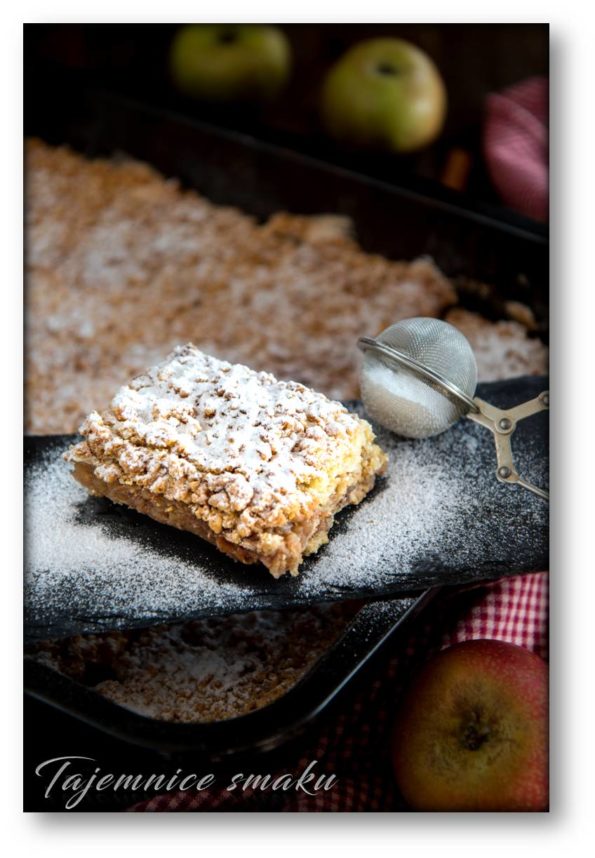 However, what we call apple pie today has little in common with charlotte.
"In the eighteenth century, in honor of Charlotte, wife of George III, King of England, a warm dessert with fried apples was created, named after her. The round form with the edges widening upwards (the so-called apple pie form) was lined with pieces of white bread with butter, then filled with thick fruit marmalade, baked and served warm."*
There is a certain similarity between apple pie and charlotte - both taste great served warm, especially with the addition of vanilla ice cream.
Ingredients
CAKE
500g flour
250g butter
80g sugar
1 egg
3 yolks
1 teaspoon baking powder
APPLE FILLING
2 kg of apples (gray reneta or antonówka)
80 g of sugar
< li style="text-align: left;">1 1/2 lemon juice
cinnamon powder - we like a lot, but add as much as you like li>
PROTEIN FOAM
ADDITIONAL
powdered sugar for sprinkling
Execution
CAKE
Knead the ingredients for the shortcrust pastry by hand or mix in a food processor. Divide the finished dough into two parts, wrap each part in cling film and cool it in the fridge for at least an hour.
APPLE FILLING
Apples are washed, peeled, seeds are removed and cut into pieces with a knife, directly into a large hot pan (or pot). Add lemon juice, sugar, cinnamon and mix. Do not fry for too long, more or less until the juice is reduced, although it also depends on the juiciness of the fruit.
PROTEIN FOAM
Whip egg whites and sugar until stiff.
apple pie
Line a large baking sheet with baking paper or grease it with butter and sprinkle with breadcrumbs.
Place the bottom of the mold with half of the chilled dough and put the apple filling on it. Cover the apples with egg white foam and grate the second part of the dough on a coarse grater.
Put it in the oven preheated to 180°C and bake for about 45 minutes. When cooled, sprinkle with powdered sugar.
Apple pie tastes best served hot with a scoop of cold vanilla ice cream. Bon appetit!
Apple pie or Charlotte? For me, it's Apple Pie Jannette, whom I thank for the recipe.
Because apples are undoubtedly the most popular fruit in our country, I also recommend:
* quote from Hanna Szymanderska's book "Dishes with an anecdote"
also check
Comments