Homemade kefir buns with cottage cheese and apples. Delicious, soft and fluffy buns for dessert or breakfast
Homemade kefir buns are delicious, soft and fluffy. Instead of kefir, you can add curdled milk, buttermilk or yogurt to the dough. It happens that not everyone likes the filling of cheese and apples, then some of the rolls can be filled with your favorite jam.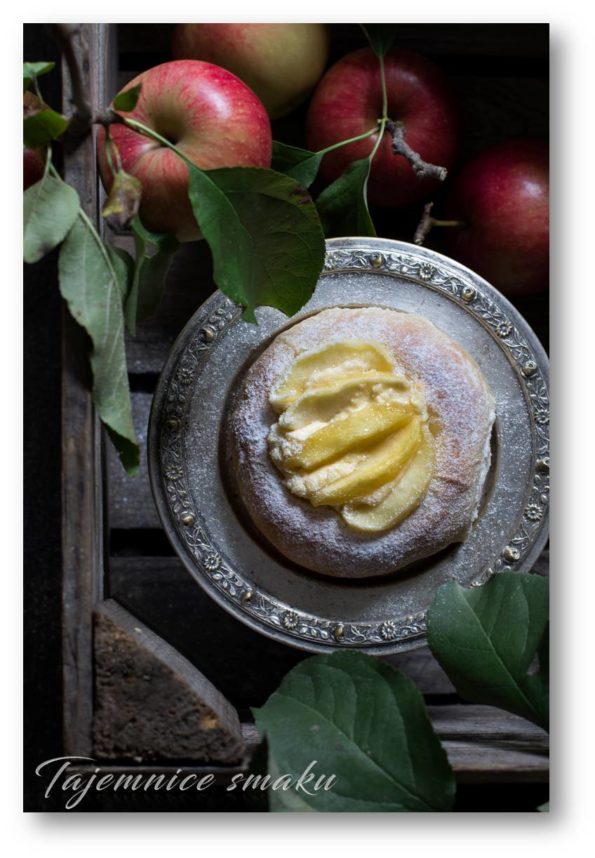 INGREDIENTSfor 9 rolls
CAKE*
500 g of flour
25 g fresh yeast
1 egg
60 g of honey
200 ml of kefir
50 g of butter
pinch of salt
CHEESE FILLING
30 g of butter
40 g of sugar
250 g of cottage cheese
1 egg yolk
STEELED APPLES
4 apples
3 tablespoons of lemon juice
20 g of sugar
EXECUTION
CAKE
Dissolve the yeast with honey, add the egg, kefir, flour, melted butter, a pinch of salt.
Knead the dough and leave it in a warm place for about 1 hour, until it doubles in volume.
Knead the dough briefly, divide it into 9 parts and form balls.
Place the dough balls on a baking tray lined with baking paper, leaving plenty of space between them.
Slightly flatten each ball, cover with a cloth and leave in a warm place for about 40 minutes to rise again and double in volume.
When the buns rise, we make a recess in each one, preferably with a glass, and fill it with the cheese filling.
Put pieces of stewed apples on top.
Bake at 190°C for about 25 minutes.
Cooled down, we can sprinkle with powdered sugar.
CHEESE FILLING
Mash all ingredients for the filling with a fork or grind.
STEELED APPLES
Apples are washed, peeled, cut into eighths and seeds are removed.
Sprinkle with lemon juice, sprinkle with sugar, mix.
We roast in a pan, making sure that the apples don't fall apart, let them cool down.
*The inspiration was a recipe for wholemeal sweet yeast buns from Dorota Świątkowska's book "My pastries".
also check
Comments