Quick and delicious cake with apple halves and chocolate pieces. Homemade pastries - springform cake. Pound cake with apple halves and chocolate pieces.
Juicy, cut apples dipped in batter with pieces of dark chocolate. This cake that catches the eye, tempts with aroma and is perfect for coffee.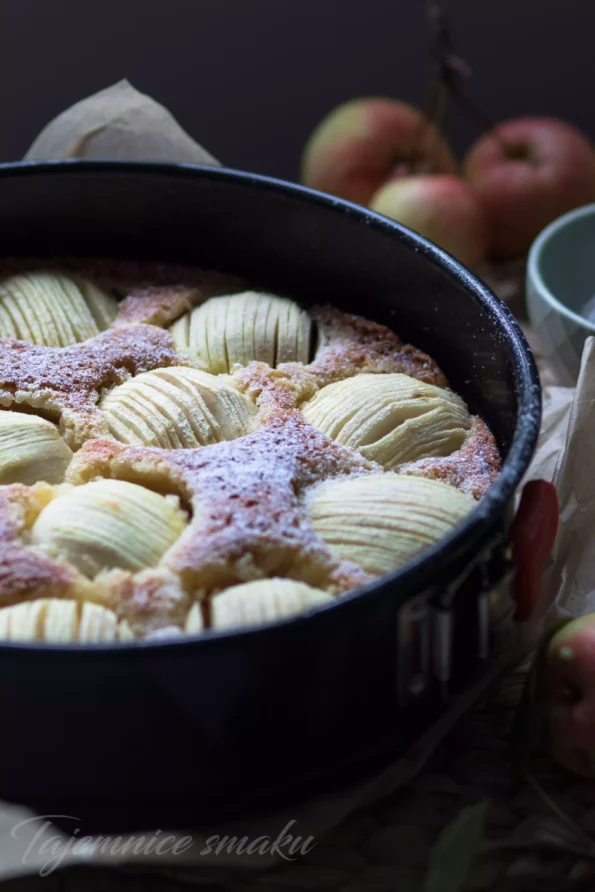 A simple recipe for pound cake, stuffed with apple halves and pieces of dark chocolate.
INGREDIENTS  for a round baking pan with a diameter of 26 cm
125 g of soft butter
125 g of fine sugar
3 eggs
150 grams of type 500 flour
30 g of potato starch
1 teaspoon of baking powder
1/2 teaspoon of baking soda
1 pinch of salt
50 ml of 30% cream
2 pinches of cardamom
zest and juice of one lemon
5 - 6 medium-sized apples
100 g dark chocolate, finely chopped
EXECUTION
Peel the apples, cut them in half and remove the cores.
Slice the peeled apple halves deep and as thin as possible, being careful not to cut the fruit in half.
Sprinkle the cut apples immediately with lemon juice and set aside.
Whip butter with sugar, gradually add eggs and cream. Finally, add the lemon zest and mix.
In another bowl, mix the dry ingredients: flour, potato starch, baking powder, baking soda, cardamom and salt.
Pour the butter mass to the dry ingredients, add the chopped chocolate and mix until combined.
Preheat the oven to 175°C.
Pour the dough into a greased springform pan.
Place the apples on the dough, close to each other and lightly press down.
Put into a preheated oven and bake for about 50 minutes until golden, until the so-called dry stick.
You can sprinkle the cooled cake with powdered sugar.
also check
Comments