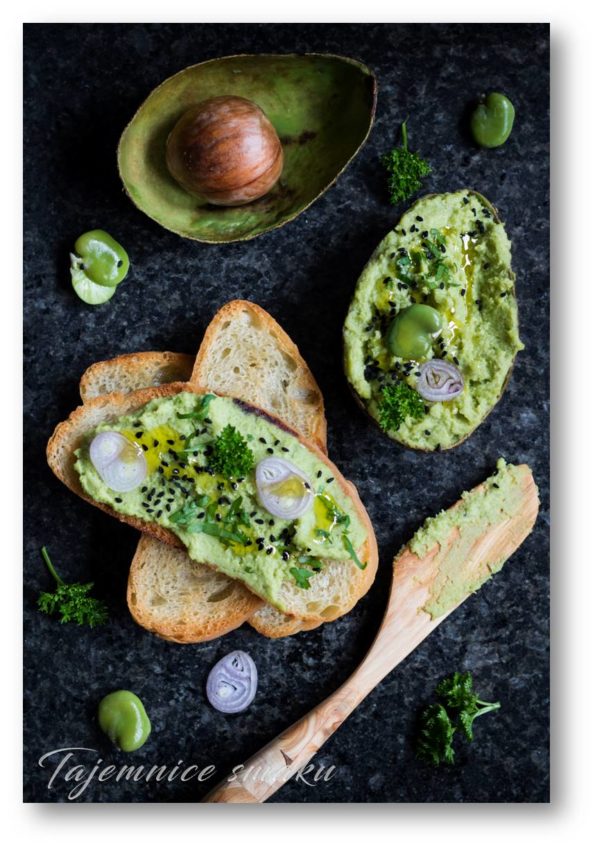 Avocado and broad bean paste is the first quick recipe I managed to prepare from the last book Yotama Ottolenghi "Simple". I made very minor changes to the recipe. I replaced spring onions with shallots and added parsley and nigella. This is what I had at home and in my opinion it went well with the ready-made paste.
The recipe is simple and quick to prepare, apart from a minor exception, it is shelling beans...
It is worth following the author's advice and "...treat shelling beans as a wonderfully therapeutic activity with music".
Ingredients
250 ​​g broad beans (fresh or frozen)
1 large avocado
2 tablespoons of lemon juice
2 tablespoons of olive oil
salt
To be provided:
baguette or ciabatta
oil
1 shallot or spring onion
black cumin
parsley
Execution
Boil water and 1/2 teaspoon of salt in a pot. Put broad beans in boiling water for 3 minutes, drain, pour cold water and peel.
Peeled broad beans, avocado pulp, lemon juice, 2 tablespoons of olive oil, a pinch of salt are mixed into a smooth paste. We try, or we add salt.
Put the paste into a bowl, drizzle with olive oil, sprinkle with nigella seeds, chopped parsley and thinly sliced ​​shallots or spring onions. We can serve with crispy slices of baguette or ciabatta fried to gold in olive oil.
Enjoy!
also check
Comments