Autumn bruschetta, or crispy baguette croutons with cream cheese and fried mushrooms
Bread croutons with various toppings are one of my favorite dishes. Often when I have bread that is a few days old, I make croutons, either in a skillet, in the oven, or toasted without fat in the toaster. This way I can refresh the bread and prepare a delicious snack.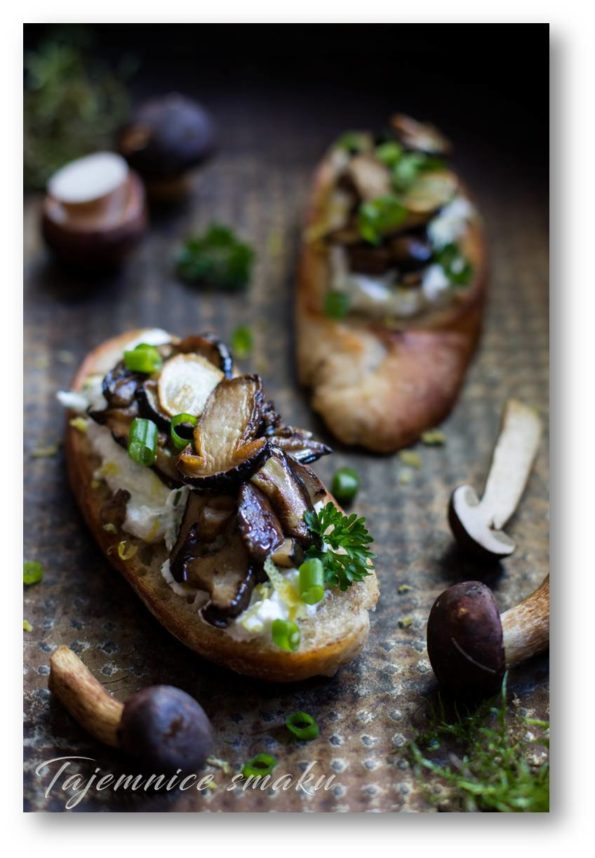 Such croutons are also a great idea for an express dish to serve to unexpected guests. Bruschetta, or toast with forest mushrooms, is a rather seasonal dish, which does not mean that we can not try to replace the mushrooms with, for example, oyster mushrooms or mushrooms.
INGREDIENTS
baguette, ciabatta or a couple of rolls
250 g fresh forest mushrooms, in my case mushrooms
1 teaspoon butter
olive oil
1 garlic clove for mushrooms + 1/2 garlic clove for ricotta
250 g ricotta cheese
the zest of 1 lemon
a spoonful of chopped herbs (parsley, chives)
salt
pepper
MAKING
Peel garlic, clean mushrooms, cut everything into thin slices.
In a frying pan we heat 1 teaspoon of olive oil and butter, briefly fry garlic. Be careful not to burn the garlic, as it will become bitter.
Remove the pan from the heat and remove the garlic slices from the pan.
Return with the pan to the burner, add the sliced mushrooms and fry, stirring all the time, until the sauce from under the mushrooms is properly reduced.
At the end, salt and pepper the mushrooms, and add the previously fried garlic. Stir and remove the pan from the heat.
In a bowl, mix with a fork the ricotta cheese with the grated lemon zest, crushed or grated garlic and herbs. Season with salt and pepper.
Cut the bread into slices and fry in a heated skillet with a little olive oil until golden and crispy. We can also toast the bread in a toaster oven, then without oil.
On top of the croutons we put ricotta cheese, and on top of fried mushrooms.
We drizzle the whole thing with olive oil and sprinkle with fresh herbs.
also check
Comments