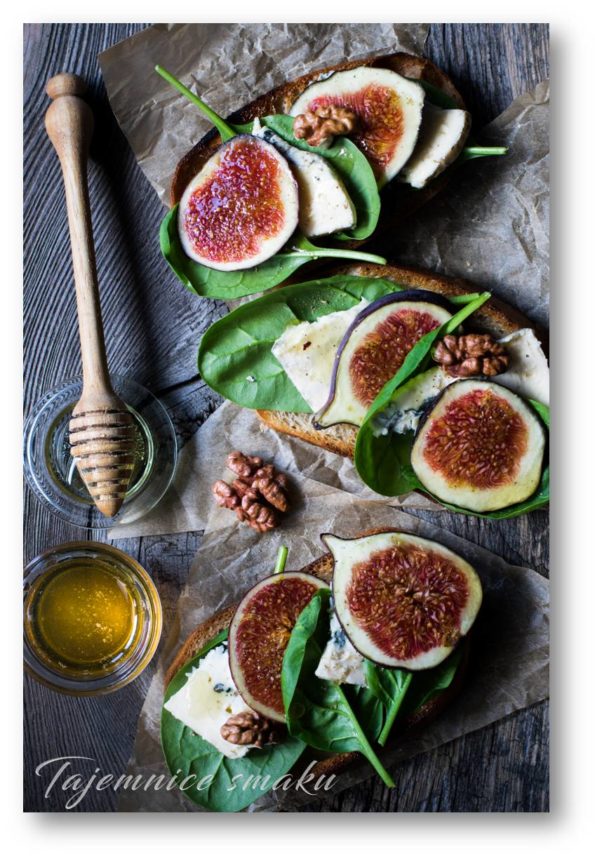 Crispy toasts with creamy blue cheese, spinach, fresh figs and honey. This is a great idea for a quick and delicious sandwich. We can prepare croutons from bread, rolls, baguettes or ciabatta. A combination of sweet ripe figs with intense cream cheese with blue mold - for fans and fanatics of such cheese - delicacies.
On the occasion of the addition of cheese with blue mold, such a curiosity. Legend has it that over a thousand years ago, near Roquefort, France, a shepherd sat in a cave to eat bread with sheep's cheese. Before he took the first bite, the sheep got scared and ran away. The shepherd ran in search of the flock, leaving his meal in the cave. A few months later, he returned to the cave and found his unattractive cheese, which had developed a thick layer of mold. A very hungry shepherd took a chance and ate moldy cheese, which turned out to be really delicious. Why didn't the shepherd get sick? Because the cheese was infected with the penicillium roqueforti mold culture naturally found in this cave, a mold that is not dangerous to humans.
Ingredients
12 slices of bread (baguette, ciabatta)
150 g blue cheese with blue mold (I used Castello Creamy Blue)
4 fresh figs
a handful of spinach leaves
honey
walnuts
olive oil
Execution
Slices of bread are fried in a hot pan with a little bit of salt olive oil until golden and crispy. We can also bake bread in grill or toaster, then without oil.
Alternately put slices of cheese and fresh figs on the toasts, and put spinach leaves on top. Pour the toasts with honey and sprinkle with nuts.
Enjoy!
also check
Comments