<! - wp: image {"align": "center", "id": 1675, "className": "is-style-default"} ->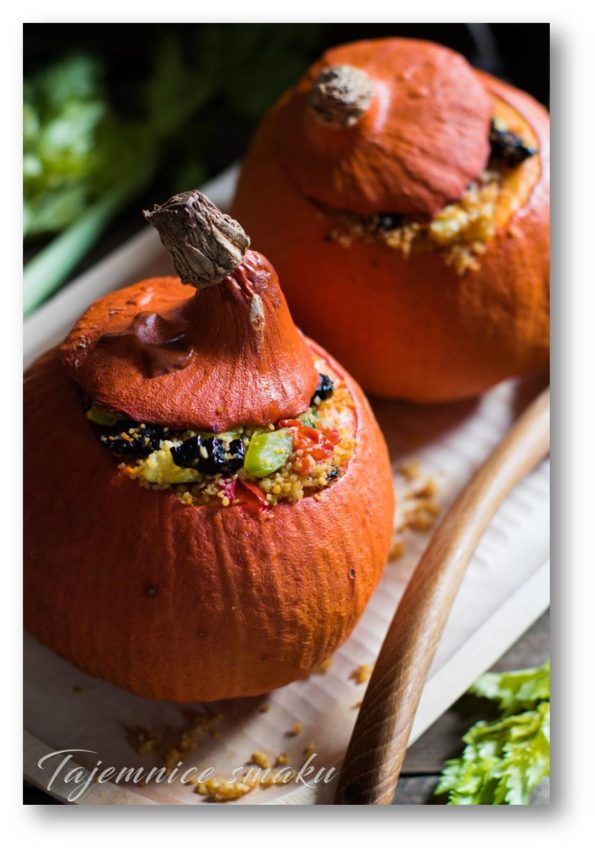 <! - / wp: image ->
Hokkaido pumpkin has the advantage over other varieties of pumpkins that we can eat it with the skin on. It is enough to wash the pumpkin thoroughly, cut it, remove the seeds with the fibrous flesh and we have the vegetable ready for further processing. Hokkaido pumpkin can be boiled or stewed, but the most delicious is baked in the oven.
To prepare this dish, the best will be small pumpkins, those weighing about 300-400 g each.
Ingredients
4 little hokkaido pumpkins
1 small zucchini
1 red pepper
2 stalks of celery
2 cloves of garlic
100 g of dried plums
200 g of cherry tomatoes
4 tablespoons of olive oil plus 2 tablespoons for greasing the pumpkins
250 ml of vegetable stock
150 g couscous
1/2 - 1 teaspoon sambal oel or chopped chili pepper
1/2 teaspoon ground cumin
salt
Execution
Cut the peppers, zucchini and celery stalks into small pieces (cubes, strips, as we like). Peel the garlic and cut it into thin slices, the tomatoes into quarters, the dried plums in strips.
Cut the pumpkin from the top, put the cut off "lids" aside. We hollow out the pumpkin from the seeds and fibrous flesh. Brush the inside of the pumpkin with olive oil and lightly salt it.
Heat the oil in a deep frying pan and fry the peppers, zucchini and celery for about 3-5 minutes. Add garlic, sambal oelek, fry for a minute, add hot broth. Bring it to a boil, add couscous, cover it and put it aside from the burner. After 5 minutes, add prunes, add cumin and salt. We try and possibly season to taste.
Fill the pumpkins with couscous with vegetables, cover with "lids" and bake in an oven preheated to 200 ° C for about 45 - 60 minutes, until the pumpkin is soft.
Enjoy your meal!
also check
Comments