<! - wp: image {"align": "center", "id": 1523, "className": "is-style-default"} ->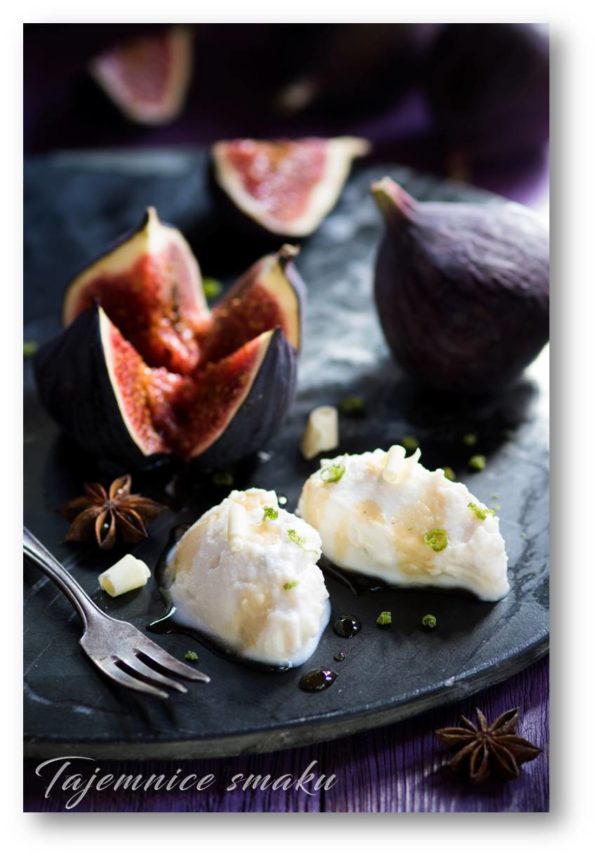 <! - / wp: image ->
Ricotta is a soft, unripened white cheese made from whey left over from other cheeses. It has a mild, milky and slightly sweet taste. It is an excellent ingredient of many dishes, both desserts and dry dishes.
Making this dessert is very easy and has the advantage that the cream cheese and syrup can be prepared well in advance and stored in the fridge.
Figs are not available all year round, so we can safely replace them with other fruits.
Ingredients for 4 people
Fresh figs - 4 large or 8 small
RICOTTA
250 g ricotta cheese
30 g of white chocolate
1 tablespoon of honey
skin rubbed with 1/2 lime
SYROP
2 tablespoons of sugar
1 star anise
100 ml of water
1/2 lime juice
Execution
RICOTTA
Chop the white chocolate into small pieces.
In a bowl, mix the ricotta with honey, add the chopped chocolate and grated lime zest, gently mix and put in the fridge.
SYROP
Put an anise star in a small saucepan, add sugar, 1/2 lime juice and water. Cook slowly over low heat until the liquid is reduced to half. Leave the ready anise syrup from the heat and let it cool down.
SERVING
We put figs on a plate, we can cut them or serve them in quarters or slices. Using two spoons, form oblong noodles from the sweet ricotta and place it next to the fruit. Pour the whole with anise syrup.
Enjoy your meal!
also check
Comments