Fruit and cream homemade ice cream. Just a few ingredients: mango, passion fruit, cream, mascarpone, honey and lime juice
Preparing ice cream at home, if we are the lucky owners of an ice cream maker turns out to be an extremely simple task. All you have to do is mix the ingredients, put them in the machine and wait for everything to blend and freeze. Such ice cream is a guarantee of good taste and top quality.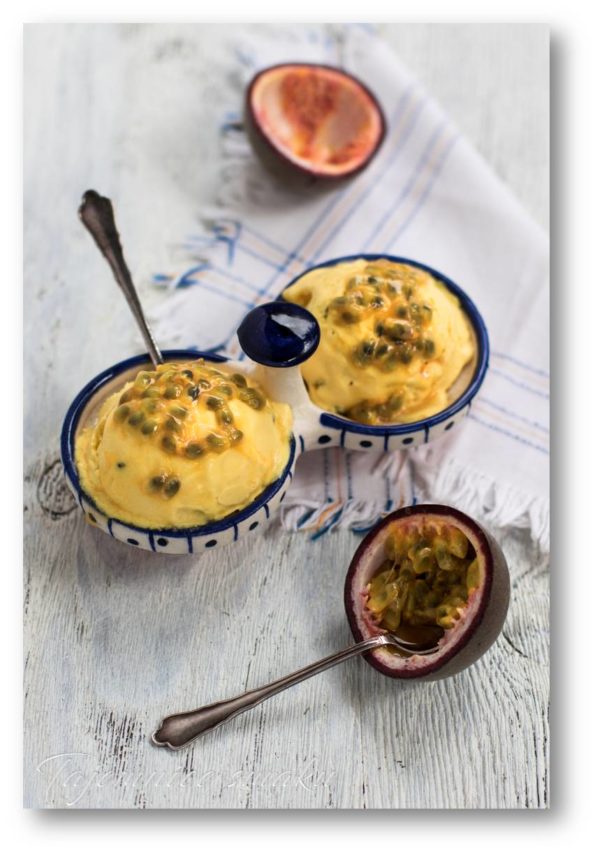 Keep in mind that homemade ice cream, despite even having a machine, is difficult to aerate well, which is why they are very hard when taken out of the freezer. So it is worth it, take them out about 15 minutes earlier and leave them at room temperature. It will be better for us to apply them and slightly thawed they taste better.
Ingredients
1 piece of ripe mango
2 pieces of passion fruit
250 g of mascarpone cheese
250 ml of 30% cream
1 tablespoon of canola honey
juice of 1/2 lime
Make
Peel the mangos, remove the stone, put the pulp into a blender.
Add the remaining ingredients leaving out the passion fruit, blend until creamy and velvety. At this point we can taste and evaluate whether the ice cream mixture suits our palate. We can sour it with lime juice or sweeten it with honey.
To the finished mass we add the passion fruit pulp and mix by hand.
Pour the mixture into the container of the ice cream machine and follow the instructions of the machine in question.
We put the prepared ice cream into a tightly sealed container and put it in the freezer for several hours.
The ice cream can also be prepared without the machine. We put the blended and cooled mixture in the freezer and for the first 3 hours of cooling, we re-blend it every 30 minutes or so, so that ice crystals do not form and the mixture is fluffier .*
Then we add the passion fruit pulp after the last blending.
*Tip from Dorota Swiatkowska - My baked goods - I did not practice, I have a machine...
also check
Comments