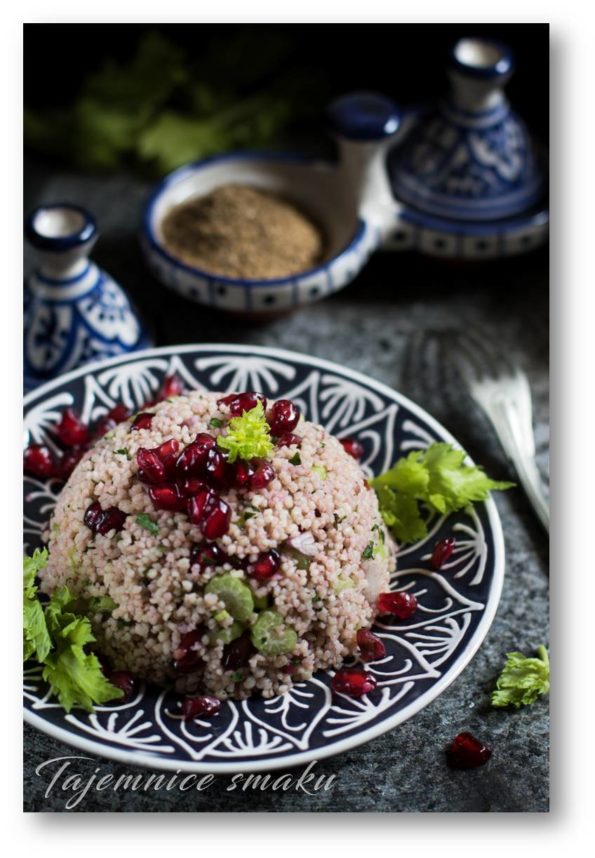 Couscous is made of wheat granules and water, so it's more like pasta than groats. Couscous is a very convenient product, mainly due to the speed and simplicity of preparation. All you have to do is pour the granulate with hot water, keep it covered for 5 minutes and it's ready. Ready couscous will be perfect in soups, salads, stuffings or as an addition to dinner dishes.
Ingredients
100 g of couscous
1 pomegranate
2 - 3  celery sprigs
shallot
1 tablespoon chopped parsley
1 tablespoon chopped mint leaves
4 tablespoons of lime juice
4 tablespoons of olive oil
1/2 teaspoon ground coriander
1/2 teaspoon ground cumin
1/2 tsp chilli powder
salt
Execution
Prepare the couscous according to the instructions on the packaging or pour it into a bowl, pour boiling water about 1/2 cm above the level of the groats and leave it for 5 minutes under the cover.
Slice the pomegranate in half crosswise, remove the pomegranate seeds from one half, and squeeze the juice from the other, e.g. in a small manual citrus juicer.
Prepare the sauce, mix pomegranate juice, lime juice, olive oil, chopped parsley, mint, cumin, coriander and chili in a bowl. We try, season with salt as desired.
Add the cooled couscous to the sauce and mix thoroughly. Add the finely chopped shallot and the celery sticks cut into slices. At the end, add pomegranates, mix and it's ready.
Enjoy!
also check
Comments