Wings with plum wrapped in bacon. I have been serving these wings for years and they made a sensation at not one Saturday party. This time I made a change. I got a big sack of last year's carrots, so nothing can go to waste. Under the wings, I placed a grate of peeled and sliced ​​carrots. It was a bullseye, from now on, carrots in this recipe will be mandatory.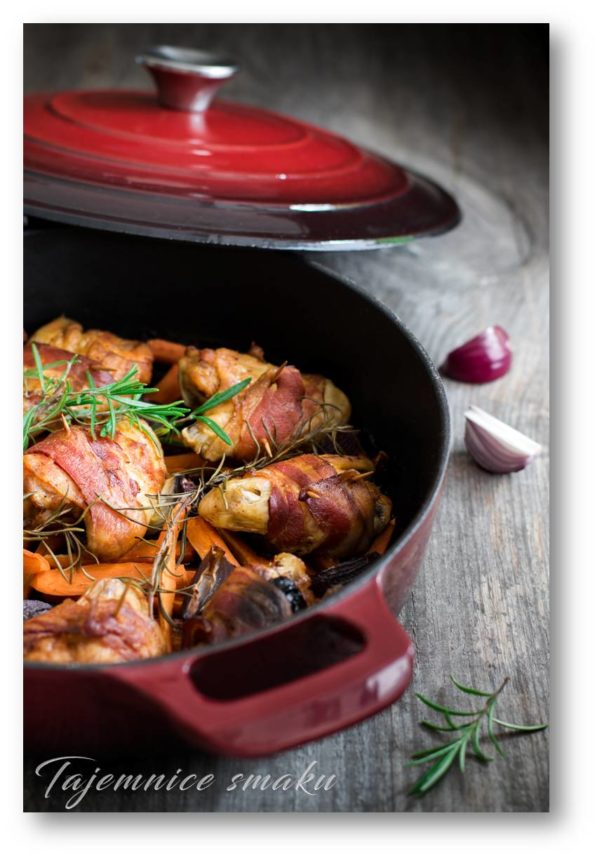 The recipe is simple, although it takes some time and patience to wrap it in bacon. I usually wrap the wings the day before, put them in the fridge and put them in the oven when the guests arrive.
INGREDIENTS
500 g of wings
slices of smoked bacon - as many pieces as wings portions
dried plums - as many pieces as wings portions
spices - salt , garlic, dried tomatoes, sweet pepper, cayenne pepper, sugar, dried onion, coriander, ginger, rosemary, cumin, black pepper, turmeric, white pepper, cardamom (or a ready-made mix, e.g. Vegeta Natur for spicy chicken wings)
toothpicks
500 g or more carrots
2 - 3 red onions (small)
several sprigs of rosemary< /li>
EXECUTION
We cut off the ends from the wings, the so-called "Ailerons" (I freeze them or immediately boil the broth).
Rub the wings with spices. Add salt sparingly because the bacon is salty.
A pocket is created in the middle of the wing, in the fold, put the plum there, squeeze and wrap it tightly with a strip of bacon, fasten it with a toothpick.
Peel the carrots and cut into thick sticks, onions into quarters. Put the carrots and onions on the bottom of the baking tray or casserole dish. Place the wrapped wings on the vegetable grate.
Throw in a few sprigs of rosemary and bake in the oven at 180°C for about 45 minutes or until golden brown.
also check
Comments