Herring under the quilt into a cube ;-)
Introducing the well-known salad "herring under a blanket" with a slightly slimmed down sauce. Colorful and very tasty, perfect for a Christmas or New Year's table.
Ingredients
6 fillets of salted herring
1 onion
3 medium sized potatoes
3 medium sized beets
4 pickled cucumbers
3 eggs
salt, pepper
chives
Sauce
280ml mayonnaise
1 tablespoon Dijon mustard
2 tablespoons of Greek yogurt
2 tbsp lemon juice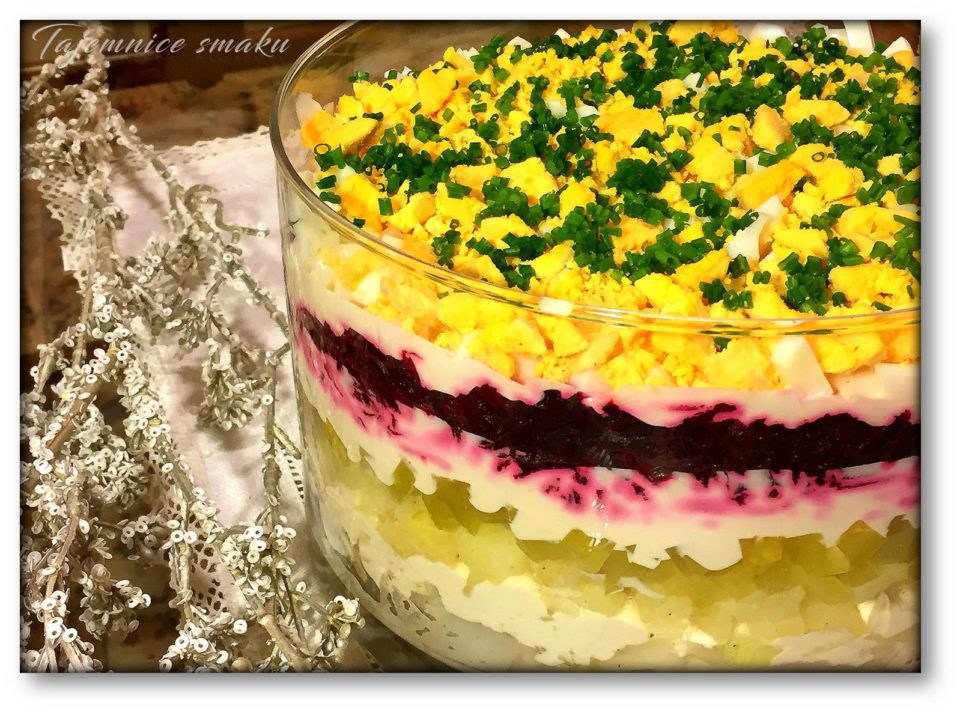 Execution
Rinse the herrings under running water, put them in a bowl and pour cold water over them. Let it stand for two hours, in the middle of the time we change the water to fresh. Dry and cut into strips.
Boil potatoes and beets in their jackets in separate pots until soft (cooking time depends on the size of the vegetables). Peel the potatoes and cut them into cubes, season with salt and pepper. Peel the beets and grate them on a coarse grater. Hard boil the eggs, peel the shells and cut into cubes. Peel the onion and chop it into small cubes as well. Peel the cucumbers and cut them... into cubes :-)
Combine the ingredients of the sauce together, season to taste if necessary.
The salad looks best in a glass dish in which we arrange the layers:
Herring mixed with onion, seasoned with pepper, smear with a layer of sauce, put potatoes and cucumbers on the herring layer, spread with a layer of sauce, then add beets and spread with the last part of the sauce. Spread the eggs on top of the salad and sprinkle with chives.
Enjoy!!
Save< /span>
Save< /span>
also check
Comments