Salad with beetroot, lamb's lettuce, linseed oil and cheese braid.
Salad with the addition of beetroot is our next idea for a dish using oscypek cheese. In this recipe, we fried beetroot with cranberry jam, bought at the stall together with oscypek cheese. It is quite sweet, which is why we broke its taste with wine vinegar.
Why a braid? We couldn't resist him ;-)
Ingredient
1 medium beet
1 tbsp cranberry jam
1 tbsp red wine vinegar
braided Oscypek braid
1 teaspoon clarified butter
leaven's lettuce
a handful of roasted walnuts
Sauce
2 tbsp lime juice
2 tablespoons of linseed oil
salt, pepper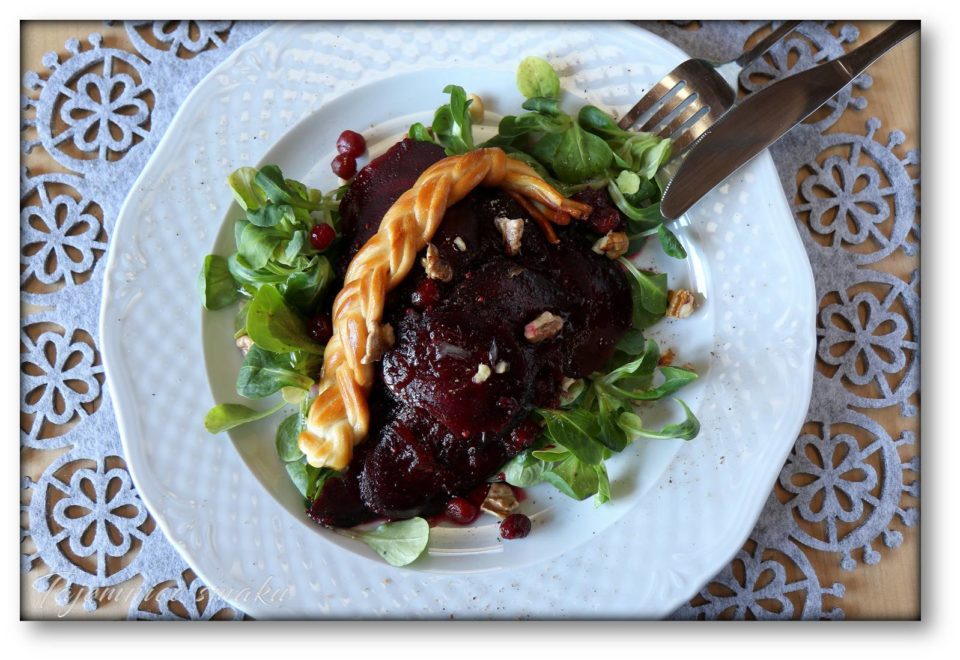 Execution
Bake the beetroot at 200°C for about 45 minutes, then peel the skin and cut into thin slices (about 3mm).
Put the cranberry jam in the pan, add the lime juice and heat it up a bit. Then add  beetroot slices and fry them in jam on both sides.
In the second pan, heat the clarified butter and fry the braid until golden on both sides.
At the same time, combine the sauce ingredients and roast the nuts in a dry frying pan until golden brown.
Place arugula, previously washed and dried, on a plate, put slices of beetroot with cranberry jam on it, pour over the sauce, arrange a braid, sprinkle with toasted nuts.
Save< /span>
also check
Comments