Herring with red and pink pepper, raisins, lime juice and zest - delicious herring salad
Red pepper is also known as pink pepper or Brazilian pepper, it is not actually a pepper. The fruit is similar in size to pepper fruit, more aromatic and less spicy, but it is not even related to black pepper.
Red/pink pepper was once used as a substitute for expensive black pepper. On sale, we can currently find it in colorful pepper mixes or packed separately.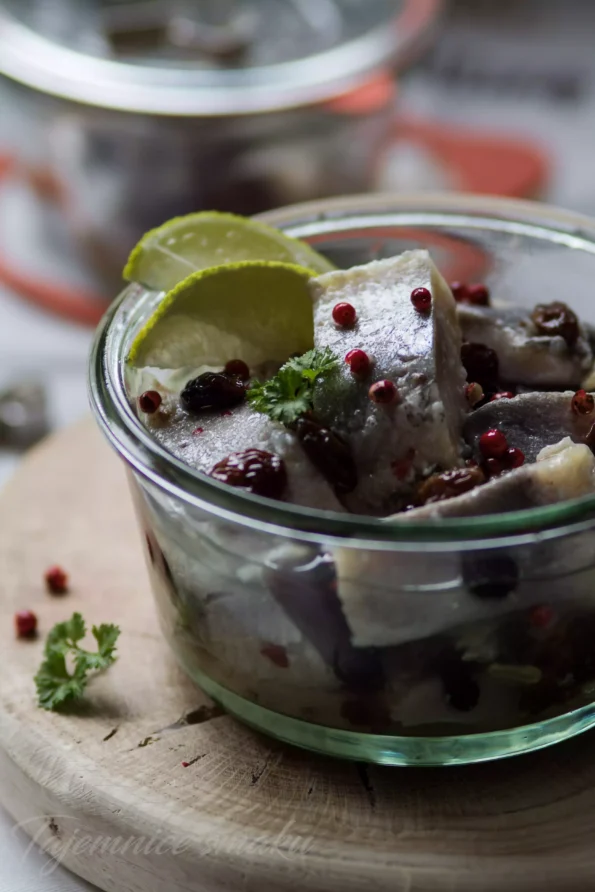 INGREDIENTS
4 herring sheets - about 300 g
15 g raisins
1 teaspoon of red/pink pepper
1/2 lime - grated zest and juice
pepper - ground black
oil - enough to cover herrings
EXECUTION
Soak the herring in cold water for about 1 - 2 hours. If we get salty herrings, change the water after 2 hours and extend the soaking time accordingly.
After soaking, drain and cut the slices into 2 cm strips, per bite.
Arrange herrings in a bowl or jar in alternating layers: herrings, lime juice and zest, raisins, red peppercorns and black pepper.
Finally, pour oil over the whole thing so that it covers the ingredients and put it in the fridge, preferably overnight.
also check
Comments