Chocolate muffins with beetroot, mascarpone cream and beetroot powder
Beets are one of my favorite vegetables in my house. I regularly prepare sourdough, pickles, squeeze juice or bake a whole pot and use them for a week for various dishes. This time beets in the dessert version, i.e. chocolate cupcakes with beets. As a complement to the color and taste, I recommend beetroot powder.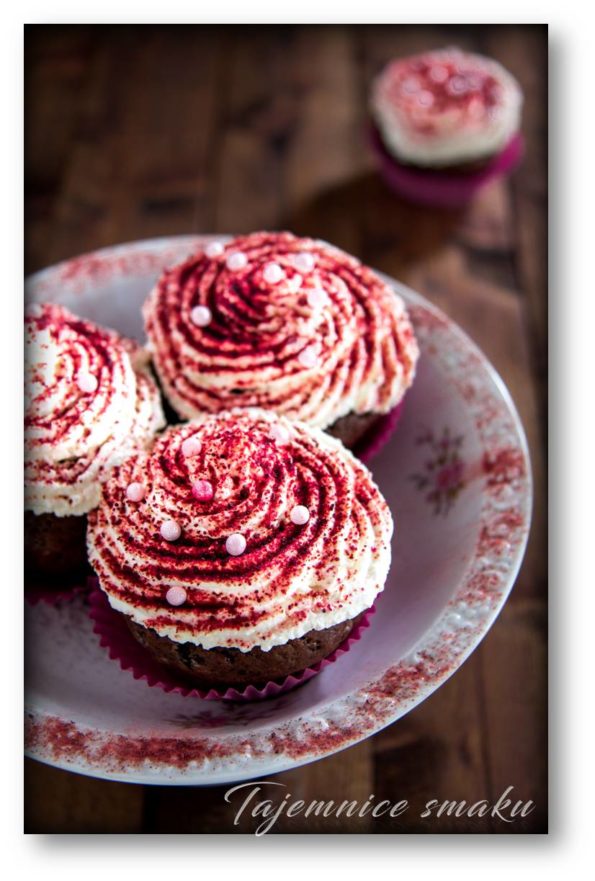 Ingredients
CUPES
230 g cooked or baked and peeled beets
150ml oil
2 eggs
180g sugar
100 g dark chocolate
1 teaspoon vanilla extract or vanilla sugar
2 tablespoons of cocoa
300 g wheat flour
1 teaspoon baking powder
1 teaspoon of baking soda
pinch of salt
CREAM
330 g cream 30%
150 g mascarpone cheese
2 tbsp icing sugar
BEET POWDER
1-2 pieces of raw beets
Execution
CUFFES
Mix the beets with oil until smooth, add eggs, extract or vanilla sugar. In another bowl, mix the dry ingredients. Gently combine the beetroot mass with the dry mixture, and finally add the finely chopped chocolate. Fill the muffin molds with the batter. These proportions should make 12 cupcakes. Bake at 175°C for about 25 minutes.
CREAM
Whip well-chilled cream, add powdered sugar, then gently, at low speed of the mixer, combine with mascarpone cheese. Put the finished cream in the fridge for 3 minutes. Then, using a pastry bag, decorate the cupcakes with cream.
BEET POWDER
Scrub and peel the beets and cut them into thin slices. Place the slices on a baking tray lined with baking paper. Preheat the oven to 100°C and bake (dry) the beets for about 1 hour. The drying time depends on the thickness of the slices and the juiciness of the beets.
After drying and cooling down, mix the beetroots into a powder. You can use a coffee grinder, blender or mortar for this. Don't worry about the faded color of the powder, in combination with a moist cream it will gain an intense color.
Sift the powder through a sieve directly onto the cream.
Enjoy!
Save< /span>
Save< /span>
Save< /span>
Save< /span>
also check
Comments