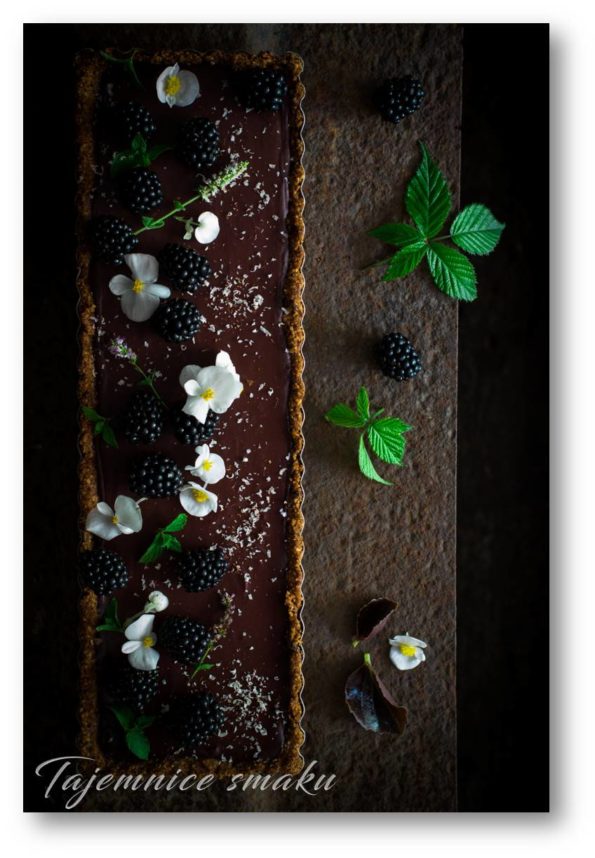 Hazelnut tart with delicious cream chocolate blackberry. Vegan, gluten-free dessert and I would like to write that no white sugar, but not this time. The chocolate I used for the cream had sugar in it in the composition. If you want to eliminate white sugar completely from this recipe, all you have to do is replace the chocolate with one without sugar.
* The amount of agar depends on the manufacturer's recommendations.
Ingredients na a mold measuring 36 x 11 cm
BOTTOM
200 g hazelnuts
30 g coconut flakes
8 - 10 pitted dates
30 g of coconut oil
pinch of salt
BLACKBERRY CHOCOLATE CREAM
300 g of blackberries (about 200 ml after rubbing)
200 ml of coconut milk (preferably thick)
100 g dark chocolate 70%
1 teaspoon of dark cocoa
2 - 3 tablespoons of maple syrup
1 tsp agar*
EXTRAS
fresh blackberries
edible flowers (I use begonias)
mint leaves
grated hazelnut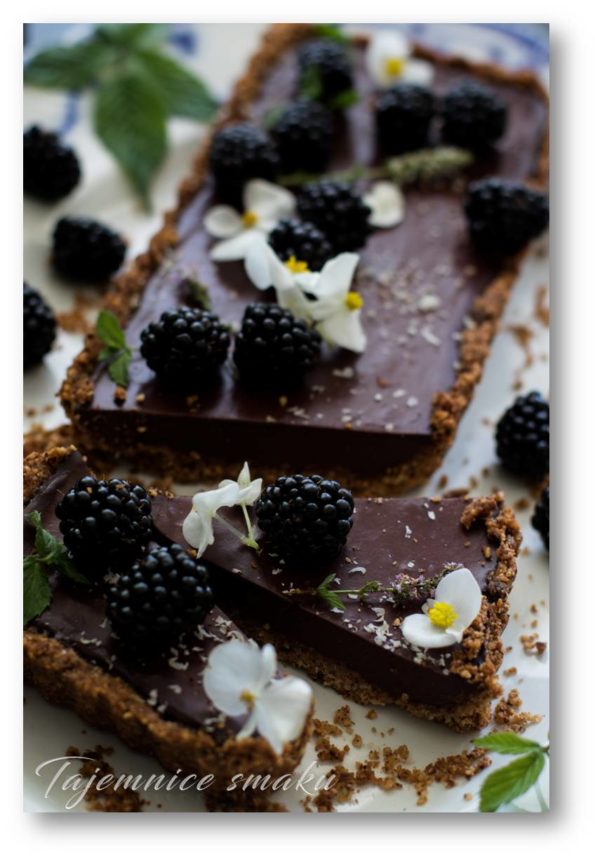 Execution
BOTTOM
Pour dates in hot water and leave for about 15 minutes. Blend the hazelnuts, coconut flakes and salt into coarse crumbs. Then add the soft and drained dates and mix again until sticky mass. At the very end, add coconut oil, mix again and so put the prepared mass on the bottom of the mould.
Heat the oven to 180°C and bake for 10 - 15 minutes until golden. We make sure the sides don't burn. If necessary, after 5 minutes, we can cover the whole thing with a piece of aluminum foil. Remove the baked base from the oven and cool it in the mold.
BLACKBERRY CHOCOLATE CREAM
Mix the blackberries briefly and rub through a sieve to get rid of the seeds. In a saucepan, heat the obtained blackberry pulp, coconut milk and agar on a slow fire. Cook for about 5 minutes, stirring all the time, preferably with a small rod. Then add the broken chocolate, cocoa and mix until the chocolate melts, at the end add the maple syrup, mix and remove from the burner. If the mass is not perfectly velvety, we can immediately rub it through a sieve. Pour the mass onto the cooled walnut base and leave to cool.
TART
Keep the cooled tart in the fridge, decorate with fresh fruit, edible flowers and mint before serving.
Enjoy!
also check
Comments