Dinner idea: pumpkin, chickpea, tomato and apricot tagine. A delicious, vegetarian and oriental one-pot dish.
Tajine (tagine, tagine, tajine), what is it? Is it a pot or a dish? It turns out that both...
A tagine is a pot with a cone-shaped lid, and the dish prepared in this pot has the same name. In the Moroccan tradition, tajine pots are made mainly of unglazed clay and are used for long-term simmering of dishes.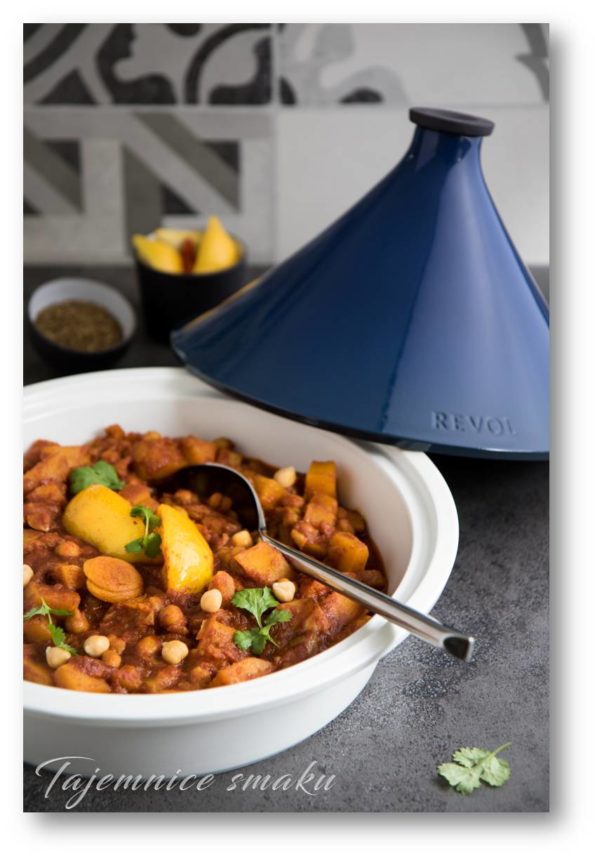 The recipe for this tagine - as Sabrina Ghayour writes in her book "Sirocco" -  is "a real hit",  and I agree! It is a delicious, vegetarian dish full of oriental flavors that will stay in my kitchen for a long time.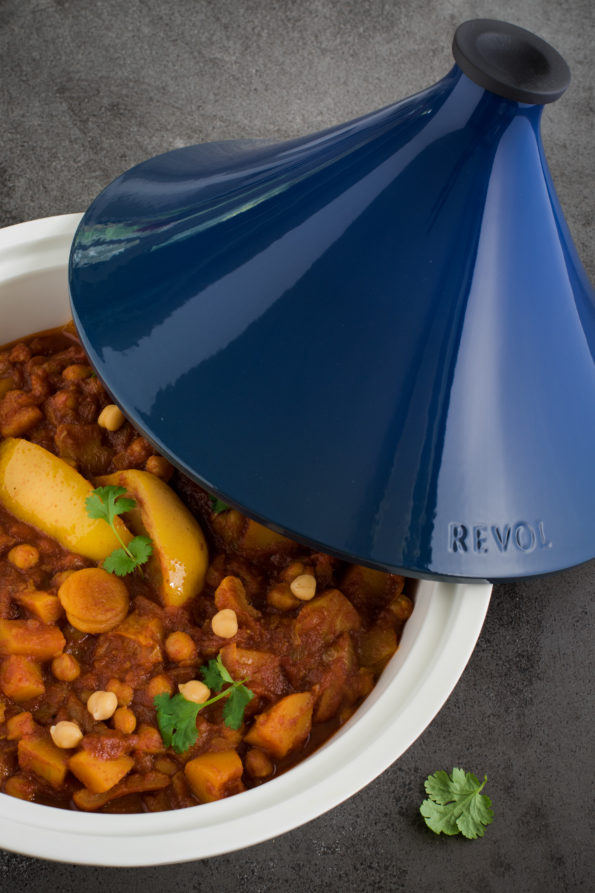 INGREDIENTS
1 kg of pumpkin, peeled and cut into 2 cm cubes
800 g canned chopped tomatoes
1 can of chickpeas, along with the pickle
200 g of dried apricots
1/4 pickled lemon (recipe for pickled lemons) or lemon juice (to taste)
oil for frying
2 onions, diced
4 cloves of garlic, thinly sliced
1 teaspoon of cinnamon
1 teaspoon ground cumin
1 teaspoon of turmeric
1 - 2 teaspoons harissa
2 tablespoons of honey
salt
pepper
a handful of parsley or cilantro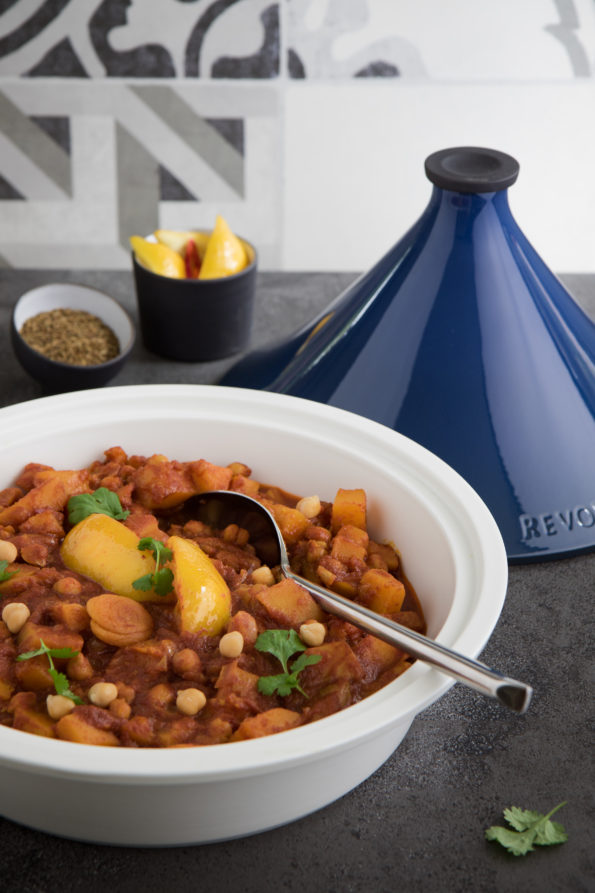 EXECUTION
Pour 2 - 3 tablespoons of olive oil into the pot.
Fry the onions in hot fat over medium heat until they become translucent, add the garlic, mix and fry for a while.
Add cumin, cinnamon and turmeric, mix, fry for a few minutes.
Then add the pumpkin and mix.
Add harissa, honey and canned tomatoes to the pumpkin.
Season with salt and pepper, add the chickpeas with the pickle, mix and cook over low heat (about 30-45 minutes) with the lid on, until the pumpkin is cooked.
Add hot water if needed.
Dried apricots are poured with water for 15 minutes and rinsed in a sieve, then cut into strips.
Add apricots and pickled lemon (or lemon juice) to the tajine, taste, season to taste and cook for another 15 minutes.
Serve with chopped parsley or coriander.
*Inspiration - "Sirocco" by Sabrina Ghayour
Tajine Revol – TGhome - cooperation
also check
Comments