A proven recipe for beetroot sourdough, not only for Christmas borscht, also to drink every day!
Not so long ago I was pickling red borscht beetroot with a slice of bread with sourdough. It turns out that it is not a key addition and properly prepared sourdough will also work without bread.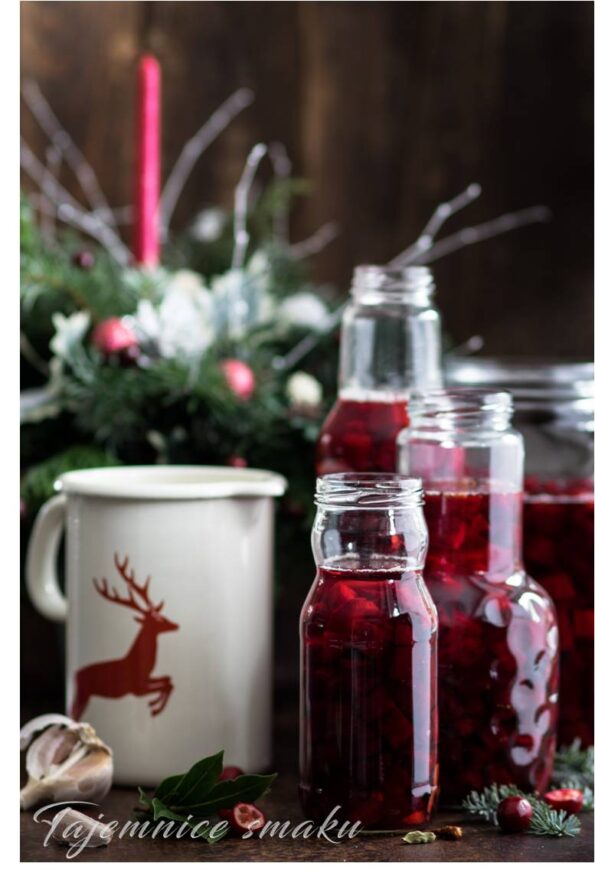 During her stay at the "Jarzynovy ferment" culinary workshop in Łowyń, Jarzynova shared her patents for ideal sourdough. Together with Dominika, we prepared beetroot sourdough in several ways. Each of us threw into her bottle such additives as she wanted. We can add a small amount of fruit to the beets, to choose from: cranberries, raspberries, blackberries, cherries, black or red currants, chokeberry. As for spices, depending on the season, it is worth using cherry leaves, blackcurrant leaves, dill flowers, ginger, horseradish, garlic, anise, cardamom, black pepper, cloves, etc.
How to prepare the perfect beetroot sourdough. First of all, beets for pickling must be healthy, without visible mold or signs of rotting. We pickle in clean, scalded glass or stoneware dishes. Wide mouth bottles are ideal. A very good patent that I use now for every pickle is a piece of baking paper that protects the metal nuts from corrosion.
INGREDIENTS
brine
beets, washed and peeled
add-ons at your discretion:
garlic
horseradish root
fresh ginger
pepper grains
bay bunches
cardamom
dried chillies
fresh or frozen cranberries
fennel seeds
EXECUTION
BRINE
1 tablespoon of non-iodized rock salt per 1 liter of boiled water and cooled down to room temperature.
Beetroot sourdough
We put selected additives (spices, fruits, leaves, etc.) at the bottom of the bottles or jars.
Then add the diced beets up to 2/3 of the height of the dish.
Pour the brine so as to leave 2 - 3 cm from the edge of the vessel.
We seal the dish through a sheet of baking paper.
Let the sourdough ferment at room temperature for 10 - 14 days. During this time, we do not open the sourdough.
In the initial phase of pickling, for the first 4 - 5 days, from time to time we lightly shake or turn the bottle or jar upside down.
I keep the ready sourdough in the fridge, together with the beets, and drain the liquid if necessary.
She uses the beets left over from sourdough in various ways. We can mix them or grate them into a salad or bake them with olive oil and spices in the oven. I often pass sourdough beets through a slow juicer and I have another portion of juice - sourdough for borscht or for drinking.
also check
Comments