Coolers made of low-salt cucumbers, avocados and celery. Green cold soup with the addition of purple potato chips
The first field cucumbers bought at the bazaar are just begging to be thrown into a jar and made low-salt. Out of greed, I immediately process 3 kg, such a weakness, but nothing is wasted. By the way, I will prepare a tasty and refreshing green cold soup.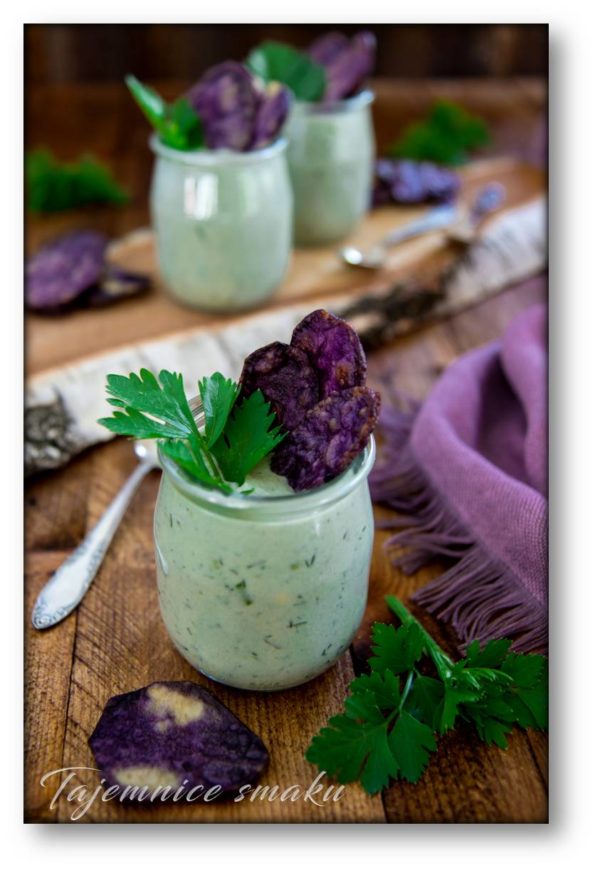 To add character to the cold soup, I serve it with potato or sweet potato chips. For a change, I suggest purple Vitelotte Noire potato chips, which captivated me with their color.
If you don't mind the taste of chlorella or sprilina, it's worth adding it to the cooler, for health and color.
INGREDIENTS
COOLER
500 ml of natural yoghurt
500 ml of kefir
2 avocados
4 low-salt or pickled cucumbers
1 a bunch of chives
1 bunch of dill
2 stalks of celery
100 ml pickled or pickled cucumbers
2 cloves of garlic li>
chlorella or spirulina powder - optional
1 tablespoon of lemon juice
PURPLE POTATO CHIPS
250 g Vitelotte Noire potatoes
1 tbsp olive oil
salt
EXECUTION
PURPLE POTATO CHIPS
Wash the potatoes, peel them and cut them into very thin slices. We try to make them as thick as possible.
Coat the slices of potatoes in olive oil and salt.
Preheat the oven to 200°C, top - bottom.
Put the potatoes on a baking sheet lined with baking paper.
Bake for about 15 minutes, making sure they don't burn. You can turn them over halfway through baking. They should be dry and crispy. A moment of inattention and they can be burned, so it's worth being vigilant and that's why it's important that they are of equal thickness.
Cooler
Peel the avocado, mash one piece with a fork, and cut the other into cubes. Put it in a bowl.
Add the diced cucumbers, celery, chopped dill and chives, crushed garlic.
Pour the cucumber brine, lemon juice, kefir and yogurt. Optionally, we add a pinch or two of chlorella or spirulina powder.
Mix, season with salt and pepper, leave in the fridge for a few hours, preferably overnight.
You can serve the cold soup with potato chips, egg or boiled potatoes
also check
Comments