<! - wp: heading ->
Cream of celery, ginger and curry soup with roasted apples and celery chips
<! - / wp: heading ->
Celery cream soup with ginger and curry is delicious and delicate in taste. The addition of fried apples and celery chips adds character and a richer flavor.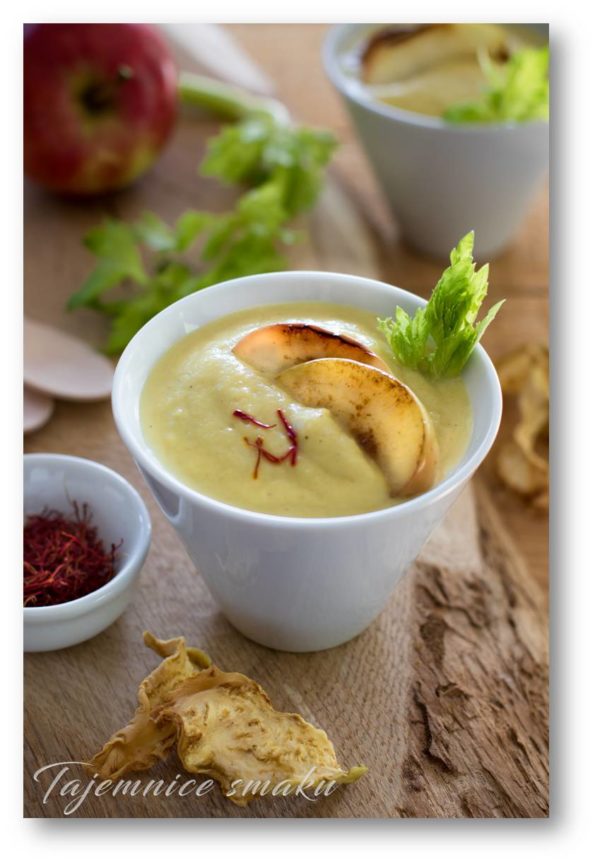 In the recipe, at the end of mixing, I add natural yoghurt to the soup. If we want the dish to be vegan, we can omit the yogurt and slightly acidify the cream with lemon juice or replace the yogurt with coconut milk and add lemon juice.
Ingredients
SOUP
300 g celery
150 g of celery
30 g of shallots
10 g fresh ginger
1 tablespoon of olive oil
1 teaspoon of curry powder
150 ml of white wine
300 ml of hot water
100 ml of natural yoghurt (in the vegan version, replace the yogurt with 100 ml of coconut milk and a little lemon juice)
pinch of saffron
salt
pepper
SELERA CHIPS
300 g celery
1-2 tablespoons of olive oil
salt
FRIED APPLE
1 big apple
1 teaspoon of olive oil
1 tablespoon of lemon juice
Execution
Peel the celery, shallots and ginger from the skin. Dice the white celery, green celery and shallots, cut the ginger into thin slices across the grain. Put the shallots and ginger on the hot olive oil, then add celery, curry and saffron and fry for a while, season with salt and pepper. Add the wine and cook for about 3-4 minutes, then pour hot water, cover it and cook over medium heat for about 30-45 minutes, until the vegetables are tender. After this time, mix everything, add yogurt, mix again, season if necessary.
Serve the soup with fried apples and celery chips.
FRIED APPLE
Do not peel the apples, cut them in half, hollow the nest and cut into pieces. Sprinkle the apple pieces with lemon juice and fry briefly in a pan in olive oil, until brown on both sides. The apples should be slightly firm.
SELERA CHIPS
Peeled celery is cut into very thin slices, preferably on a mandolin. Put it on a baking tray lined with baking paper, sprinkle with olive oil and lightly salt it. We dry it in an oven preheated to 120 ° C with hot air on for about an hour.
also check
Comments