Labneh, a cream cheese sandwich made of yoghurt
Labneh is a creamy, thick cheese obtained from drained yogurt. Preparing the cheese is extremely simple. Transfer the yogurt to a sieve lined with a muslin cloth or gauze, put the whole thing in a bowl and refrigerate for 24 hours. We're waiting for the water to drain. The longer we leave the yogurt in the sieve, the thicker the labneh will be.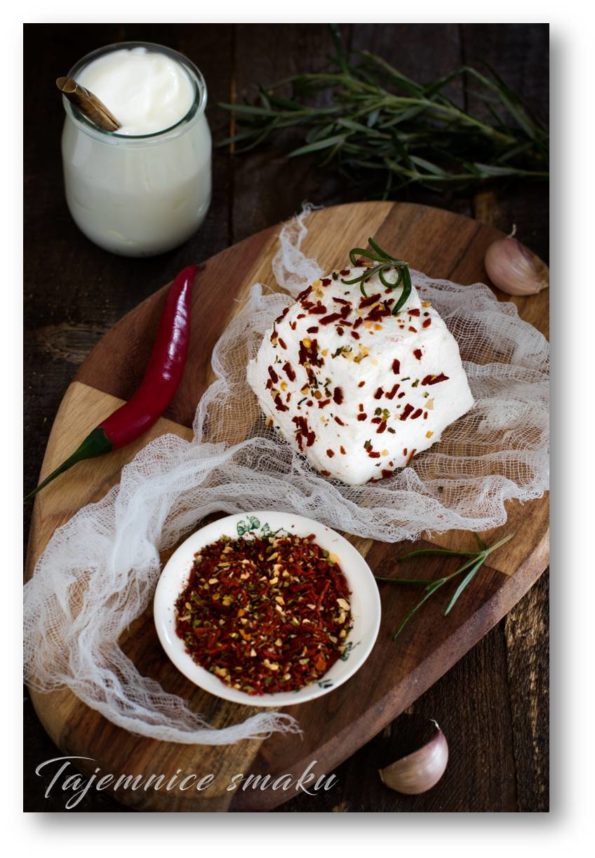 In the book Jerusalem, Yotam Ottolenghi proposes a recipe for labneh made from natural yogurt and goat's milk yogurt. I tried swapping goat yogurt for sandwich goat cheese and adding a spicy mix of herbs and dried tomatoes. A very tasty bread spread came out, which has already settled in my kitchen for good. I really like stuffing small pickled peppers.
And what to do with the water that remains after draining the yogurt? I never pour it out, I add it to soups or meat or vegetable stews.
INGREDIENTS
400 ml of natural yoghurt, can be Greek
300 g of goat cheese sandwich
1 teaspoon of dried herbs with tomatoes "Dried tomatoes with chilli"
juice of 1/2 lemon
salt
EXECUTION
Mix yogurt with goat's milk cheese, a mixture of spices, lemon and salt.
Pour the mass into a sieve or colander lined with gauze folded four times.
Set the sieve over a deeper bowl into which the liquid will drain. Tie the ends of the gauze together and put the whole thing in the fridge.
Leave the yogurt to drain for 24 - 36 hours, after which the labneh should be ready.
also check
Comments