<! - wp: image {"id": 2109} ->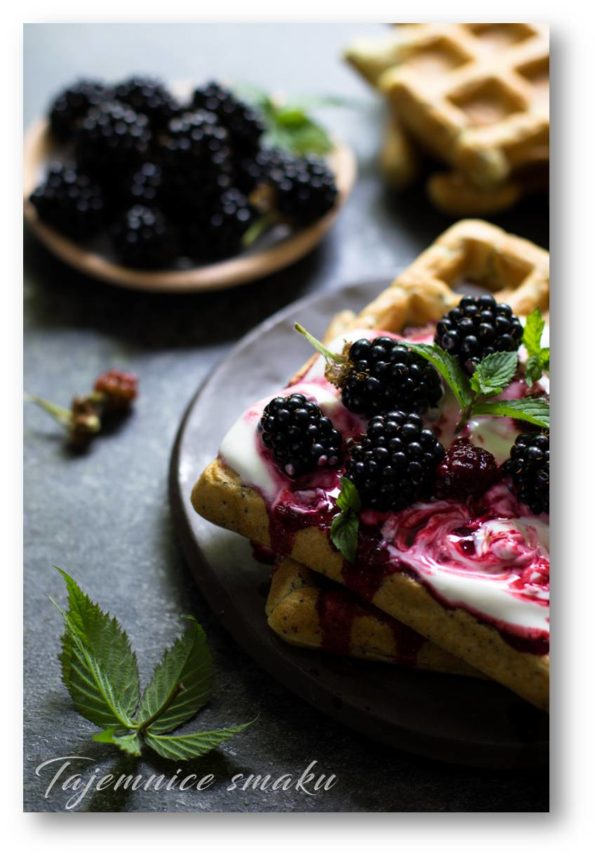 <! - / wp: image ->
Lemon waffles with a pleasantly crunchy poppy seed. Top with a tablespoon of thick Greek yogurt, blackberry and maple syrup, and a handful of fresh blackberries in season... delicious.
To prepare the syrup in the off-season, we can use blackberries frozen. If we want to serve waffles for breakfast, the syrup is ready and mixed We can keep the cake in the fridge overnight to bake fresh waffles in the morning.
Ingredients
SOS
350 g of blackberries
1 teaspoon of lemon juice
3 tablespoons of maple syrup
WAFFLES
300 g of flour
1/2 teaspoon of baking soda
1/2 teaspoon of baking powder
20 g of sugar
20 g of poppy seeds
Grated zest of 1 lemon
30 ml of lemon juice
250 ml of sparkling water
2 eggs
80 g of melted and cooled butter
lubrication oil waffle iron
TO BE GIVEN
blackberries
Greek type thick natural yoghurt
mint
Execution
SOS
In a small saucepan, heat the blackberries with lemon juice, the fruit will start to release juice. Reduce a moment, take it off the heat, add maple syrup, mix and set aside. For pouring waffles, we can use only the syrup or the whole with fruit.
WAFFLES
All ingredients for the dough (except oil) exactly mix and set aside for 5 minutes. We heat up the waffle iron. Grease the top and bottom plates of the waffle iron a small amount of oil, the best way to do this is to use a brush. Put the dough in portions until it is well heated waffle iron - the amount depends on the size of the waffle iron - bake until obtained golden color.
We serve it best while still hot with a spoonful of yoghurt and a sauce of blackberries and maple syrup. During the season, we serve waffles with fresh blackberries.
Enjoy your meal!
also check
Comments