Salad with watermelon, ricotta, pistachios...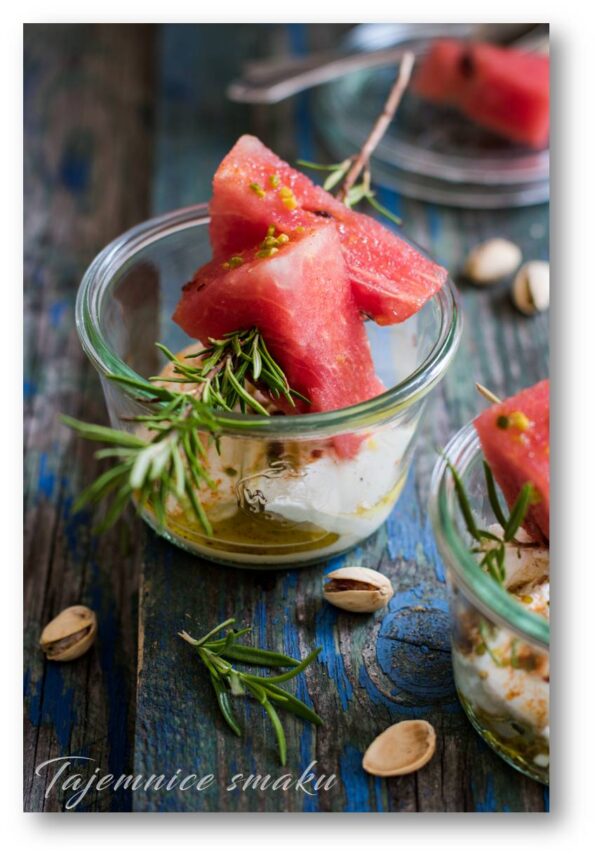 Refreshing ricotta and watermelon salad with spicy lemon-honey sauce and crunchy pistachios. It's delicious, and don't be fooled, because watermelon likes to carry fashion ;-)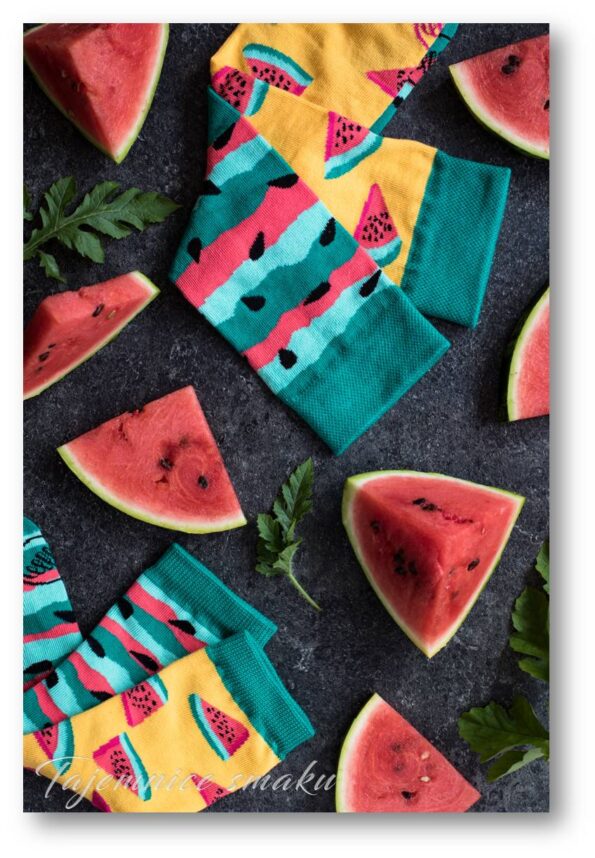 What connects socks with a watermelon dessert? Culinary inspirations come from the least expected side. Eat That Sock!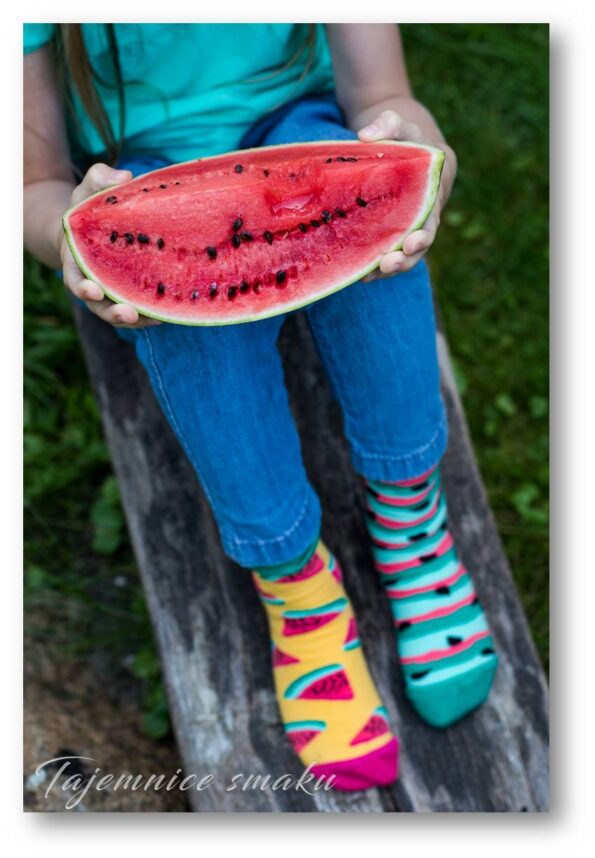 Ingredientsfor 4 servings
600g watermelon
6 tablespoons of olive oil
1 lemon
1 tablespoon of honey
250g ricotta
3 tablespoons of  natural yogurt
2 tablespoons of peeled pistachios
salt
pepper
1/2 tsp chilli flakes
1/2 teaspoon chopped fresh rosemary needles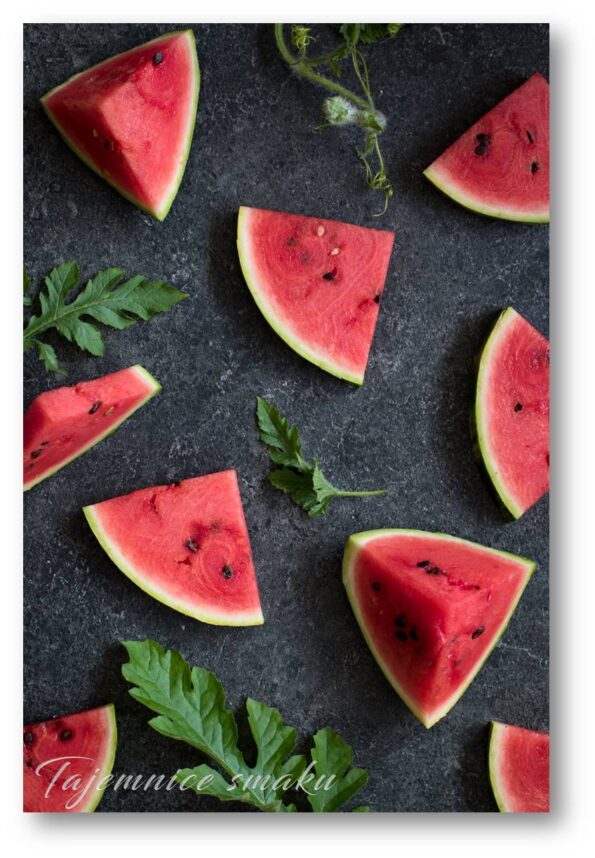 Execution
Peel the watermelon and cut it into wide slices, then into small triangles. Thread 2 - 3 pieces of watermelon onto a wooden short skewer. If you want to surprise your guests, you can stuff a watermelon on a sprig of rosemary. Put the skewers on a plate in the fridge.
We are preparing the sauce. Grate the zest from half a lemon and squeeze the juice from the whole lemon. In a bowl, mix olive oil, lemon juice and zest, honey, rosemary and chilli. Season with salt and pepper. Finely chop the peeled pistachios.
Mix the ricotta cheese with natural yoghurt until creamy. Then, we spread it on glasses or jars and sprinkle with honey and lemon sauce. Place skewers with watermelon on the edge of the jars. Sprinkle with chopped pistachios and serve immediately. This dish goes perfectly with crispy ciabatta or baguette toast.
Enjoy!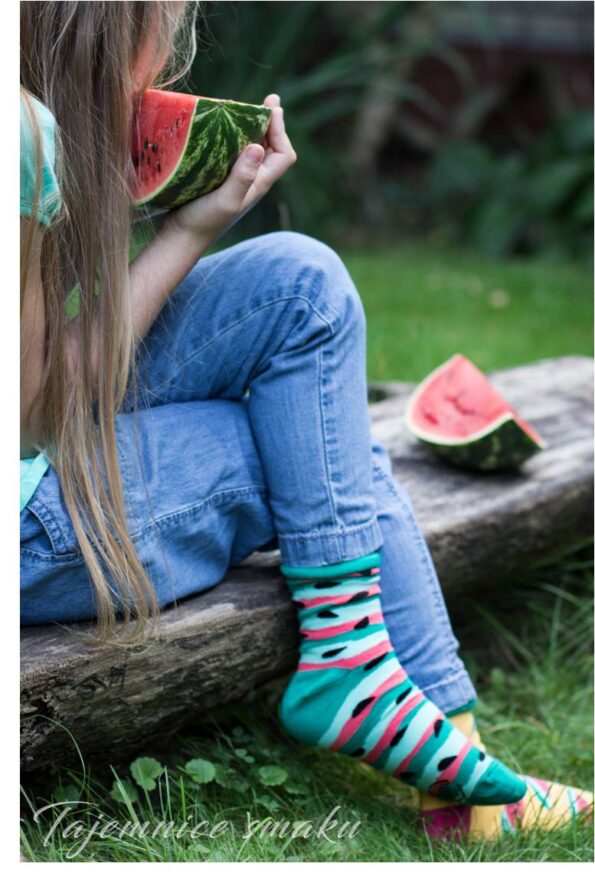 EAT THAT SOCK!
But what's the point? How to combine the culinary and fashion worlds? Or maybe you also have an appetite for colorful and cheerful socks, not necessarily a pair? If so, the #EatThatSock campaign has started! and together with Many Mornings I invite you to cook and have fun. Show your creativity, it will be fun! Go to Many Mornings and choose a pattern that will be a culinary inspiration, describe it in a post or story on Facebook or Instagram. Just don't forget to add #EatThatSock and tag @manymornings. Sock gifts from the organizer for the best posts to whet your appetite. And if you still don't know what it's all about, check out Many Mornings
also check
Comments