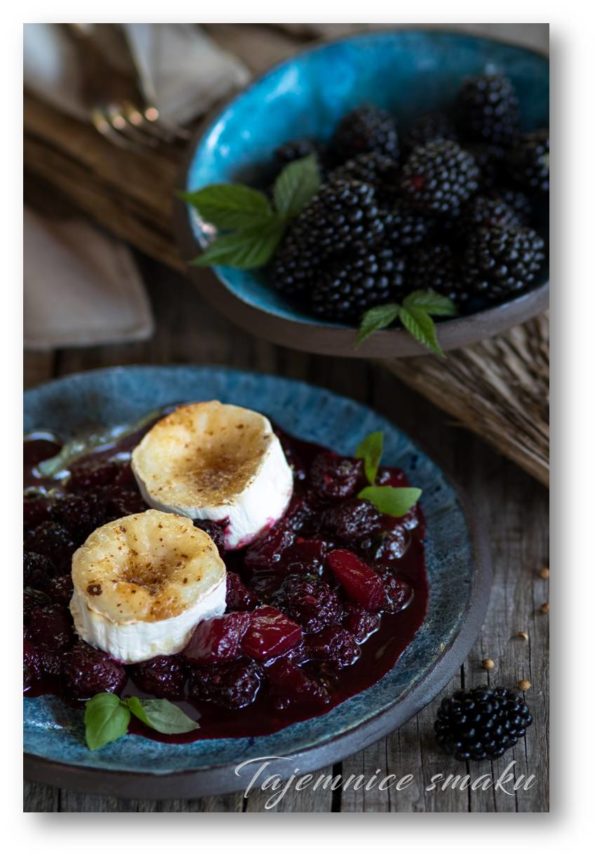 Grilled cheese with jam is a suggestion for an exquisite appetizer or a dish for dinner served with a good white wine.
We are accustomed to grilled or fried cheese served with cranberry jam. Taking advantage of the fact that ripe blackberries are bending the bushes and melons can be bought at a very good price I propose this time to serve a homemade jam of these fruits with the addition of cilantro and basil to the grilled cheese.... It will be happening!
What kind of cheese to serve with melon and blackberry jam? We can grill any camembert cheese, but if you like and manage to get a goat cheese "Bûche de chèvre" this will be the perfect combo.
It will be a great combination.
"Bûche de chèvre" is a goat cheese covered with white mold. The cheese comes from the Loire Valley. It matures for a minimum of two months, the taste is sharp and tangy under the surface of the rind, the flesh is creamy.
Ingredients
CONFIT
200 g peeled melon
200 g blackberries
juice of 1/2 lemon
1/2 teaspoon coriander seeds
40 g cane sugar
a handful of basil leaves
salt
pepper
SER
200 g goat cheese "Bûche de chèvre", a cheese roll with white mold
1/4 teaspoon dried chili flakes
2 teaspoons cane sugar
Making
CONFIT
Coriander seeds are crushed in a mortar.
Peel and de-seed melon and cut into about 1 cm cubes.
Into a frying pan or pot put the cut cubes of melon and blackberries, sprinkle with cane sugar, add crushed coriander, lemon juice stir boil. From the moment it comes to a boil, cook over medium heat for about 15 minutes, then remove from the heat, add chopped basil leaves, a pinch of salt and pepper, stir. Transfer the jam to a bowl or jar, cool, or store in the refrigerator until the cheese is grilled.
The jam can be prepared in larger quantities, packed in small jars and pasteurized.
SER
In a mortar, mix and grind sugar with chili flakes.
Cut the cheese roll into slices about 1 cm thick (200 g of roll yields about 8 slices), place on a baking tray lined with baking paper. Sprinkle each cheese disc with grated chili sugar. Turn on the grill in the oven, place the cheese sheet about 10 cm under the grill and bake for 5 minutes, until the surface of the cheese is browned.
On plates we spread jam, arrange grilled cheese on it. We can serve it with a crusty baguette.
Tasty!
also check
Comments