Hot tomato soup or cold soup. Summer tomato, apricot and fennel cream soup
Hot soup or cold soup? You choose!
Tomato and apricot cold soup is an exceptionally summer soup. It owes its taste to sun-ripened tomatoes and the fruity sweetness of apricots. August is the best time to prepare this soup, because then the tomatoes and apricots are ripe and ready to be harvested.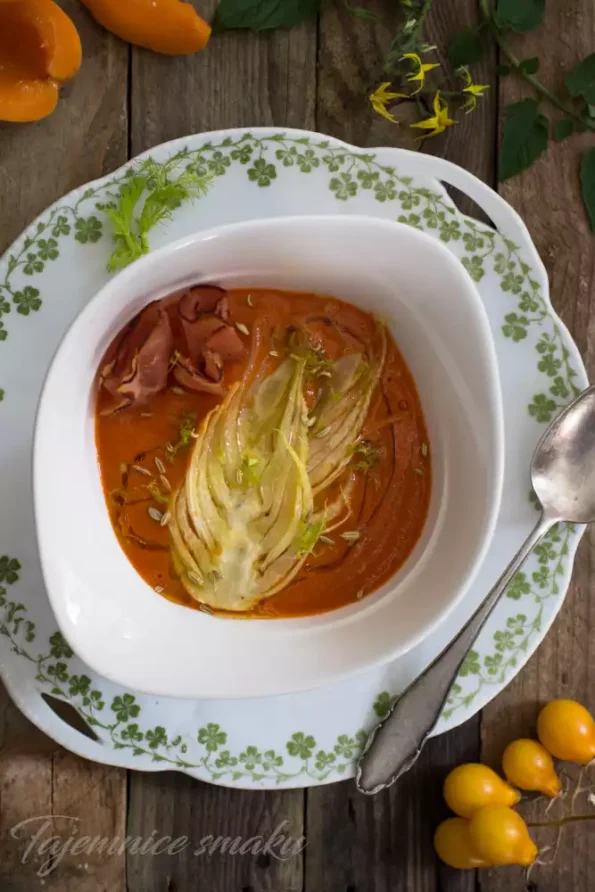 Tomatoes for soup can be baked in the oven, as in the recipe. We can also use tomatoes baked in the summer at low temperature and frozen for the soup. Thanks to this, we will be able to enjoy the taste of the soup with delicious, sun-ripened tomatoes all year round. You can prepare such tomatoes in season using this recipe: tomatoes, slowly roasted at low temperature according to Jarzynova  
INGREDIENTS
500 g of tomatoes
150 g of apricots
50 g of onions
1 chilli pepper
1/2 teaspoon of coriander seeds
1/2 teaspoon of fennel seeds
3 tablespoons of olive oil
500 ml of meat or vegetable broth
250 ml tomato juice or passata
300 g of fennel bulb (fennel)
10 g fresh peeled ginger
salt
pepper
optionally a few slices of smoked raw ham
optional chilli oil
EXECUTION
Preheat the oven to 180°C.
Cut the tomatoes and apricots in half. Cut out the stems from the tomatoes, remove the seeds from the apricots and place them on a baking sheet, skin side down. Sprinkle with salt, drizzle with a tablespoon of olive oil and bake for about an hour.
Fennel and coriander seeds are crushed coarsely in a mortar.
Cut the onion and chilli into strips and fry for 2 - 3 minutes in a tablespoon of olive oil, preferably in a large saucepan. Add the mixture of spices and fry briefly.
Add roasted tomatoes with apricots, broth and tomato juice. Cook the whole thing for about 10 minutes.
 Season with salt and pepper, add grated ginger and cook over medium heat, covered, for another 5 minutes. Then mix everything into a cream. If you want to prepare a cold soup from the soup, cool it down in the fridge for at least 1 hour.
Cut the fennel into thin slices. We can do it with a sharp knife or use the so-called. mandolins. Fry the dill slices briefly on both sides in the remaining olive oil, sprinkle lightly with salt. This is how I prepare dill if I eat hot soup. I recommend raw fennel slices for the cold soup. Sprinkle them with olive oil, lemon or orange juice, salt and leave for 10 minutes.
Pour tomato and apricot soup into deep plates, add slices of fennel and optionally ham. If you like spicy soups, I recommend additionally sprinkling with chilli oil.
Fennel seeds (fennel), coriander seeds or chili oil can be bought in larger stores or online, e.g. in Kuchnie the world
also check
Comments