Pickled mini peppers - homemade preserves
The little colorful peppers are pretty, tasty and... sweet (these are not spicy peppers!). I like to pickle them in small portions, on a regular basis. Then I don't even pasteurize them, I just keep them in the fridge, and when they gain strength, I stuff them with feta cheese or homemade labneh yoghurt. I recommend < em>recipe for a snack of olives and pickled peppers with labneh or feta cheese.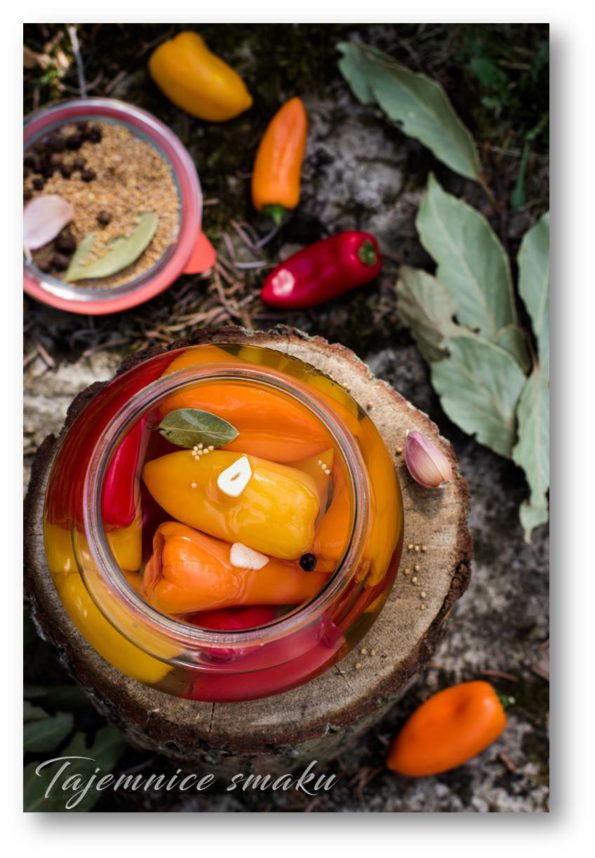 Peppers can be marinated and pasteurized. Such marinades store well, thanks to which we have colorful snacks on hand throughout the season, which we can serve straight from the jar. According to this recipe, we can also marinate large peppers, cut into pieces.
Let's get to the pickling!
Ingredients for a 1l jar
300 g sweet mini peppers
1/2 teaspoon of mustard seeds
2 grains of allspice
1 bay leaf
1 garlic clove
5 grains of black pepper
Flood:
800 ml of water
150ml vinegar
1 teaspoon of salt
2 tablespoons of sugar
Execution
We wash the peppers, dry them, cut out the green stalk with a sharp knife and carefully remove the seeds so as not to damage the peppers.
Pour water and vinegar into the pot, add salt and sugar, and bring to a boil.
Fill the scalded jar with the peppers, add the remaining ingredients, pour the hot brine and close the lid immediately.
We can prepare a larger portion for the winter, then jars with peppers are pasteurized for about 5 minutes for safety.
After cooling down, put the jars in a cool place. After 2-3 weeks, when the peppers acquire the right taste, we can serve them.
also check
Comments