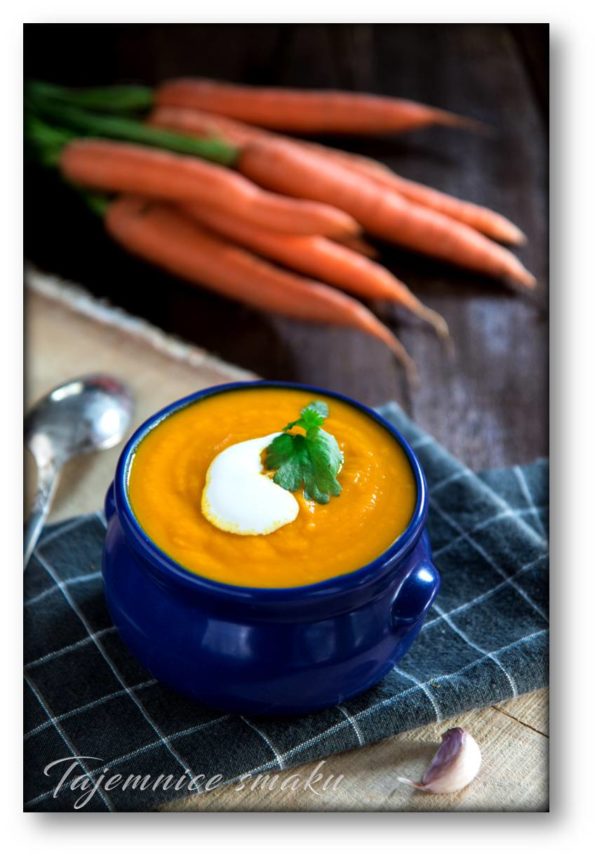 Cooking vegetables doesn't always destroy the vitamins they contain.
Apparently, in carrots, cell membranes soften during cooking, thanks to which the beta carotene present in the vegetable is better absorbed by our body.
And beta carotene is an elixir for the skin, also called the elixir of youth!
Winter is merciless for our skin... That's why in spring, apart from sun rays and beauty cosmetics, we need additional internal support!
We don't need any more arguments...
Then get to work!
Ingredients
1kg of carrots
1l water
1/2 lime juice
165ml coconut milk
2 cloves of garlic
3 cm fresh ginger
2 shallots
1 tbsp coconut oil
1 tsp ground coriander
1 teaspoon ground cumin
1 teaspoon turmeric
salt, pepper
For decoration
fresh coriander leaves
1 tbsp 18% cream per serving
Execution
Peel the carrot and cut it into smaller pieces. Cut the peeled shallot into cubes, grate the ginger on a fine-mesh grater, crush the peeled garlic.
Heat the coconut oil in a pot, add the carrot and fry for about 2 minutes. Add shallots, garlic and ginger to the carrots, mix everything for a minute and fry. While frying, add spices.
Pour in hot water and cook for about 30 minutes or until the vegetables are soft. At the end, add coconut milk.
Mix the cooked soup to a smooth cream, optionally season with salt and pepper to taste.
The soup tastes best served with a spoon of cream and fresh coriander.
Enjoy!
also check
Comments