KAJMAK CHEESECAKE ON GINGERBREAD BOTTOM
During the holiday season, almost every home smells of gingerbread. Gingerbread cookies can be baked much earlier, their aroma is the first signal that Christmas is coming :-)  Since the atmosphere is already so festive, why not cheesecake on a gingerbread base?
It was our first time, but we already know that it won't be the last ;-)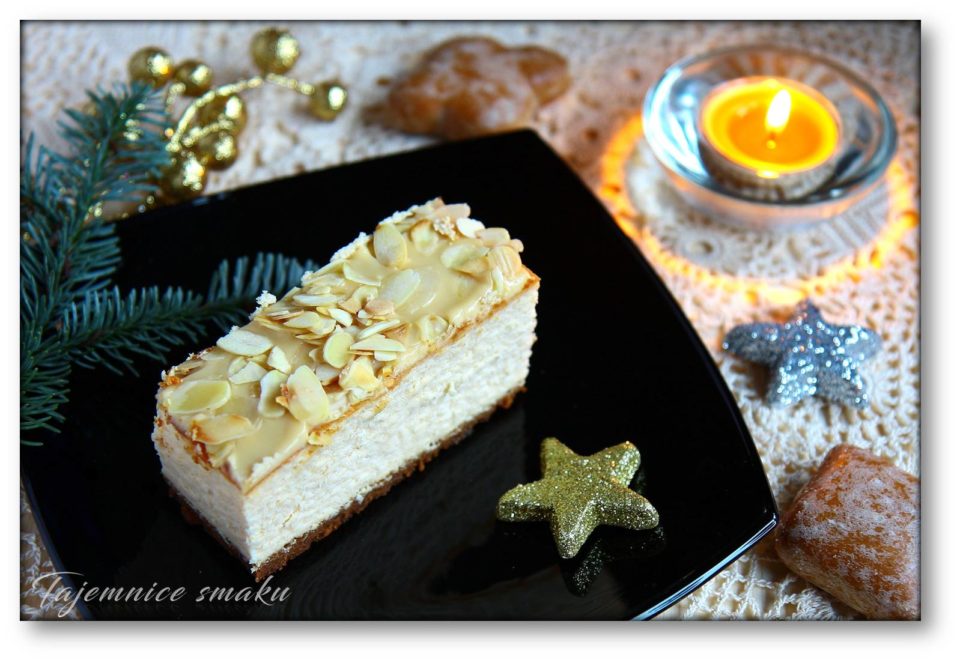 Ingredients
BOTTOM
300g glazed gingerbread cookies
50g butter
CHEESE
1kg of ground curd (minced twice)
500g mascarpone
250g kajmak - fudge mass
2 vanilla puddings (sugar free)
3 eggs
juice of 1/2 lemon
Icing
50g white chocolate
1 tbsp kajmac
2 tablespoons plain yogurt
additionally:
50g almond flakes
Execution
Toast the flakes of almonds in a dry frying pan, let them cool down.
Place a cake tin with a diameter of 24cm or a baking tray with dimensions of about 24x28cm with baking paper.
BOTTOM
Grind the gingerbread cookies and butter cut into smaller pieces in a food processor into wet sand. Put it on the bottom of the springform pan, pat it down lightly and put it in the fridge.
CHEESE MASS
Combine all the ingredients for the curd mass together and mix very thoroughly in a food processor to obtain a homogeneous mass.
Preheat the oven to 180 °C (top - bottom).
Pour the cheese mass on the bottom of the gingerbread, put it in the preheated oven and bake for about 60 minutes*
*We baked in a tin, the baking time in a springform pan may be a little shorter. It is worth checking the situation after 45 minutes of baking :-)  From the exchange of experiences, we also know that the oven is often responsible for the baking time.
When the cheesecake is cold, pour our topping on top, sprinkle with roasted almonds and put it in the fridge.
Topping
Break chocolate into pieces and melt in a water bath (in a bowl over boiling water), at the end gradually add yogurt - kajmak - yogurt, spoon by spoon - and mix very intensively until a uniform creamy consistency is obtained.
Deliciousness 😉
Save< /span>
also check
Comments