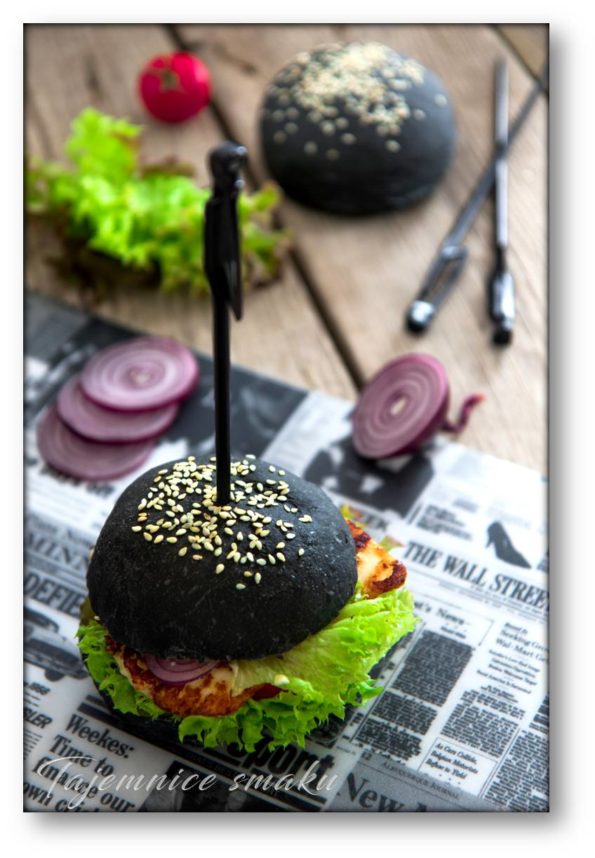 Black rolls are an idea for an April Fool's Day joke or a "dark bread" for an evening with ghosts, i.e. Halloween.
Hamburger buns are stuffed with a beef cutlet and toppings or, like I do, with fried halloumi cheese.
You can also make smaller buns from the same dough. We make red spicy paste, e.g. from dried tomatoes with chili , and we have a snack for an evening with ghosts.
Ingredients
FILLING
8 slices of halloumi cheese (1cm thick)
tomatoes
pickled cucumbers
red onion
lettuce
ketchup
mayonnaise
mustard
8 rolls
400g flour
3/4 teaspoon salt
1 egg
4g activated charcoal (purchased at a pharmacy, preferably in capsules)
1 tbsp sesame for sprinkling buns
BUN SEASON
20g flour
1 1/2 teaspoons of sugar
20g fresh yeast
30g melted and cooled butter
160ml water
30g milk powder
Execution
JUMPER FOR ROLLS
Mix all the ingredients for the leaven in a bowl and leave for 30 minutes.
Rolls
Pour the flour into the second bowl, open the activated charcoal capsules and add it to the flour, mix thoroughly. Silicone gloves will be useful for this activity.
Add leaven, egg to the flour and knead the dough. Leave to rise, covered with a cloth for about 1 hour.
Use the risen dough, form 8 buns, place them on a baking tray lined with baking paper and slightly flatten them. Cover with a cloth and leave to rise for 45 minutes.
Preheat the oven to 200°C.
Before baking, brush the rolls with water and sprinkle with sesame seeds. put in a preheated oven and bake for about 15 minutes.
BLACK BURGERS
While the buns are baking, fry the slices of halloumi cheese in a small amount of oil.
Wash and dry the lettuce. Cucumbers, tomatoes and peeled onion are cut into slices.
Cut the warm rolls in half. Spread the flat part of the bun with ketchup, put slices of pickled cucumber and lettuce, then put a fried slice of halluomi cheese. Then, put a slice of tomato, mayonnaise, and a bit of mustard on top of the cheese and cover with the top of the bun, fasten with a skewer and serve.
Enjoy!
* Seriously, black rolls are edible, and the idea of ​​using activated charcoal and more about black rolls on the blog Blueraven.
also check
Comments