Homemade hamburger with beef. Juicy beef burgers in a yeast carrot bun.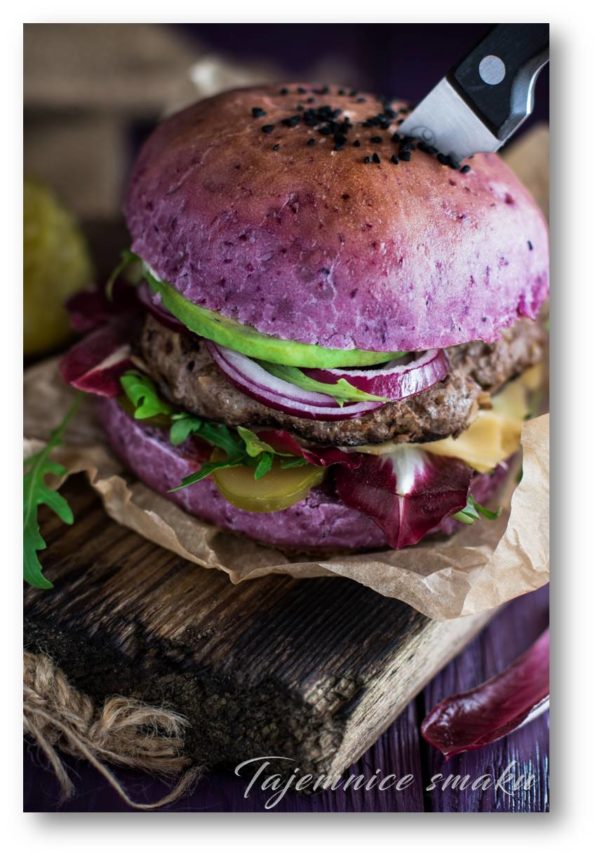 Colorful food intrigues and introduces a bit of humor to the daily menu.
Purple hamburger bun?
Why not?
Profanation or provocation?
It's just fun!
Black carrot, also called purple, is said to be one of the oldest varieties of carrot.
In the food industry, black carrot juice concentrate or puree is used as a natural dye for yoghurts, drinks or colorful sweets.
Black carrot can be easy to buy in supermarkets, health food stores or vegetable bazaars.
We can also smile at a friend's mother who has big black carrots (without fertilizers!)... from her own cultivation.
The idea for purple hamburger buns came from pure curiosity and disbelief, how can you make a cake in such a color?
The inspiration was Grzegorz Łapanowski's recipe for a purple pizza published in the Kitchen magazine.
The experiment was successful and stimulated further inspiration for purple treats, especially for children who like colorful and cheerful dishes.
Ingredients
Buns - 9 pieces
500g flour
1 purple carrot - medium size (about 100 g peeled)
3/4 teaspoon salt
1 egg + 1 egg to brush on before baking
1 tbsp black cumin or black sesame seeds
Leaven
20g flour
1 1/2 teaspoons of sugar
30g fresh yeast
30g melted and cooled butter
160ml water
30g milk powder
Beef burgers
1 kg ground beef
2 tsp dijon mustard
1 tbsp teryaki sauce
1 onion
about 100 ml of water (can be sparkling)
salt, pepper
frying oil
Also
9 slices of cheese
pickled cucumbers
1-2 avocados
handful of arugula
red chicory
red onion
ketchup
mayonnaise
mustard
Execution
Leaven
Mix all the ingredients for the leaven in a bowl and leave for 30 minutes.
Rolls
Peel the carrot and grate it on a fine-mesh grater.
Pour the flour into a bowl, add the leaven, egg, grated carrot and knead the dough. Cover with a cloth and leave to rise for about 1 hour.
Use the risen dough, form 8 buns, place them on a baking tray lined with baking paper and slightly flatten them. Cover with a cloth and leave to rise for 45 minutes.
Preheat the oven to 200°C.
Before baking, brush the buns with a beaten egg and sprinkle with black cumin or black sesame seeds. Put into the preheated oven and bake for about 15 minutes.
Beef burger
Mix the meat with finely chopped onion, mustard, teriyaki sauce, water, pepper and a pinch of salt. Knead the mass thoroughly and form round, flat cutlets out of it. You can leave the whole thing aside for an hour to slightly "bite", but it is not necessary. The taste of good beef will always defend itself, even without all these additions!
Heat a little oil in a frying pan and fry the burgers for about 5 minutes on each side.
 Burger
Slice the buns in half, smear the bottom of each  with ketchup and arrange: slices of pickled cucumber, chicory and arugula leaves, a slice of cheese, a hot hamburger, onion rings, a slice of avocado, mayonnaise and mustard. Cover with the top of the bun, fasten with a skewer or... a steak knife!
Enjoy!
also check
Comments