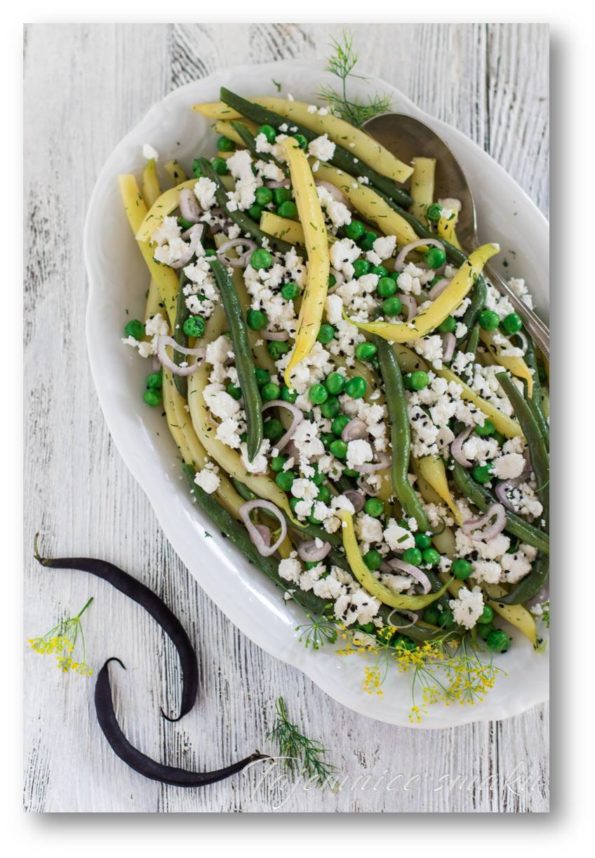 Preparation of such a salad does not take much time. The bean absorbs the most work, i.e. cutting it, cooking it, blanching it. Due to the fact that the salad is served cold, the beans can be prepared well in advance.
How to cut beans? On one side or both?
As you like!
We cut off only one side, the one from which it grew on the bush. Firstly, the beans look more appetizing on the plate, secondly... that tail at the end of the pod is delicate and tasty, and thirdly... it's a waste of time.
Ingredients
500 g string beans
100 g green peas (frozen or fresh)
100 g of feta cheese or Balkan goat's milk cheese
1 shallot
1/2 tsp black cumin seeds
2 tbsp olive oil
1 tbsp apple cider vinegar
1 tablespoon finely chopped dill
salt
pepper
Execution
Wash the beans, trim the hard ends, and blanch. Boil salted water in a pot. Prepare a bowl with cold water and ice cubes. Put the beans into the boiling water and cook for about 10 minutes (the beans should be half-cooked), then remove them using a slotted spoon and quickly put them into ice water. When they are cold, drain them.
Green peas, if we use frozen ones, just put them in a sieve, pour warm tap water and leave them on the sieve for about 10 minutes.
In a bowl, gently but thoroughly mix the cooked beans, chopped shallot, drained peas, chopped dill, olive oil, apple cider vinegar, salt and pepper. Put the whole thing on a large platter, sprinkle with crumbled cheese and nigella seeds.
Enjoy!
also check
Comments