We can prepare the salad in a jar and take it to work, school, university, for a picnic, on a trip...  Wherever our legs will take us, if only the jar would fit in the bag.
We don't have to pack the salad in a jar, we can layer it in any other container that has a secure closure. But we will achieve a visual effect only in a jar. After all, we perceive food not only with the sense of taste or smell, but also with sight.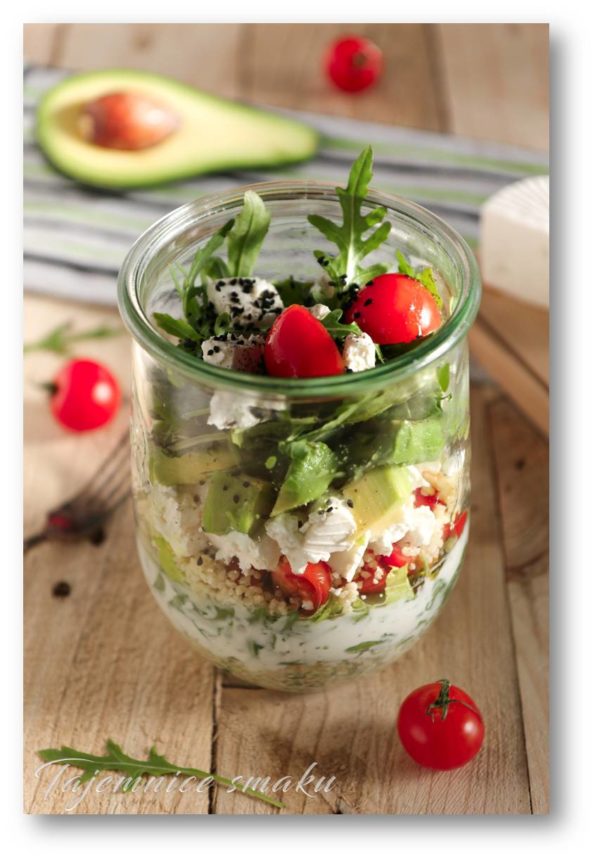 Lay all ingredients in layers, in the order:
Ingredients
6 tablespoons of cooked millet (can be according to this recipe)
2 tablespoons chopped arugula
100ml natural yoghurt (salt and pepper)
1 sprig of chopped celery
6 cherry tomatoes, halved
3 tablespoons of cooked millet
100g Balkan goat milk cheese
1/2 avocado, cut into pieces and sprinkled with juice from 1/2 lemon
handful of arugula
2-3 cherry tomatoes
1 tsp black seed
2 tbsp linseed oil
pepper
We close the jar, do not shake it, take the fork in the pocket and go.
Enjoy!
Save
Save< /span>
also check
Comments