Buckwheat pancakes - pancakes - on kefir with rosemary, honey, nuts and fresh figs
Small fried pancakes, also known as American pancakes, are a great idea not only for breakfast, but also for dessert or dinner. They taste best served with yoghurt, honey or maple syrup and fruit.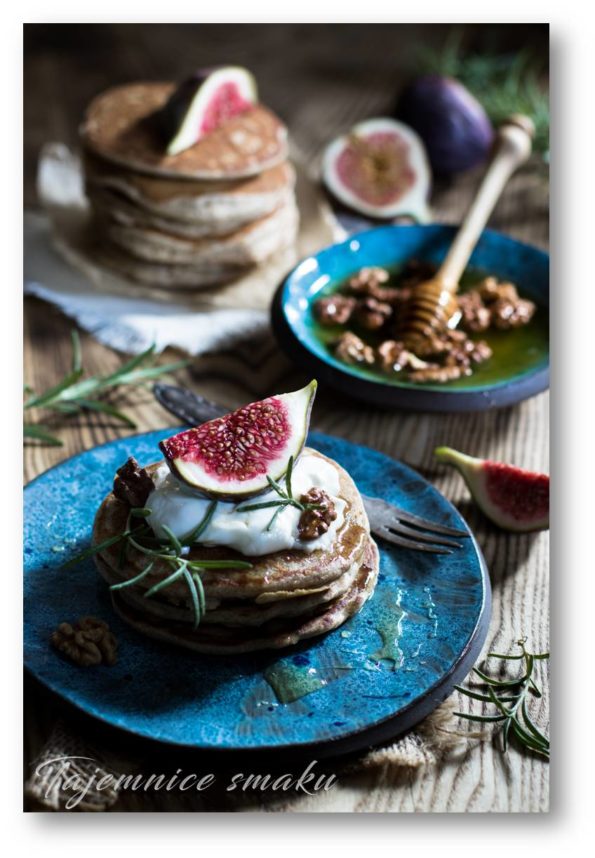 I recommend preparing the dough for the pancakes in advance, preferably overnight, so that it can stand. Thanks to this, the pancakes will be perfectly fluffy.
If you don't like the taste of goat's dairy, in this case yogurt, you can replace it with cow's or even coconut.
INGREDIENTS
250 ml kefir
2 eggs
20 g melted butter
200 g buckwheat flour
1 teaspoon powder for baking
1/2 teaspoon of soda
20 g honey
1/2 teaspoon of fresh, finely chopped rosemary
pinch of salt< /li>
frying oil
To be provided:
4 - 5 fresh figs
250 goat's milk yoghurt
honey
walnuts
EXECUTION
Pour kefir, eggs, honey, melted and cooled butter into a bowl and mix.
Then add buckwheat flour, baking powder, baking soda, chopped rosemary and a pinch of salt.
Mix until the ingredients combine and you get a smooth and uniform mass.
Heat the pan and grease it lightly with oil. It is best to spread the oil in the pan with a brush or oil-soaked paper towel.
Put the dough 1 tablespoon at a time and fry over medium heat until browned on both sides.
The finished pancakes are served with a spoonful of goat yoghurt, fresh figs and walnuts.
The whole thing is poured with honey.
also check
Comments