Yogurt dry muffins with pumpkin, sage, nuts and blue cheese: Gorgonzola, Stilton, Roquefort or Azure
Blue mold cheeses are characterized by their original texture and peculiar aroma and flavor. Among the most outstanding cheeses in this category are Italian Gorgonzola, French Roquefort and English Stilton. Of Polish blue mold cheeses, we can use Azure for cupcakes.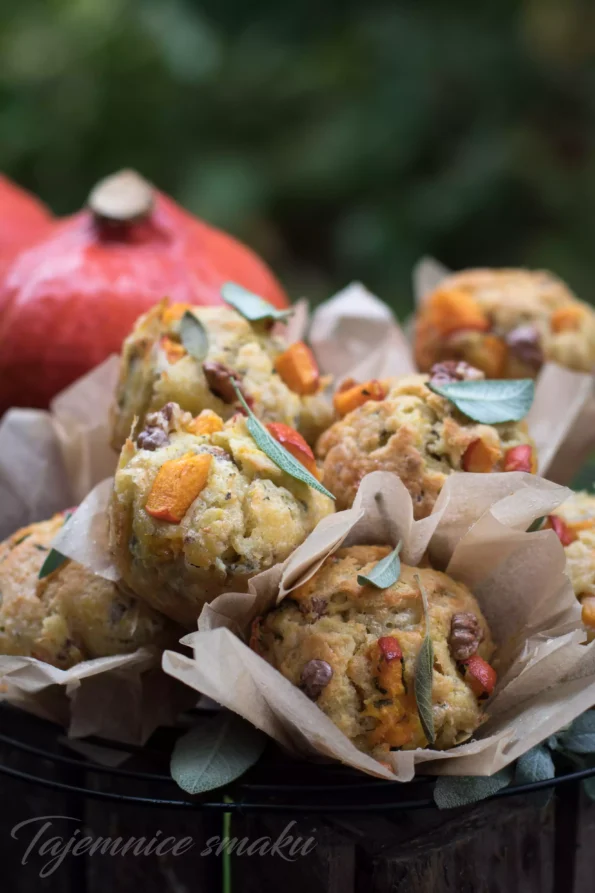 The muffins can also be prepared with other mold cheese. However, it is worth paying attention to choose a cheese that will be noticeable in the muffins. It should, in the finished baked product, stand out with its characteristic flavor and aroma.
From the given proportions we will bake 12 muffins. We can use ready-made muffin liners or make our own. Here are instructions how to make muffin pans
INGREDIENTS
Roasted pumpkin
250 g pumpkin cut into 1.5 cm pieces - in my case Hokkaido pumpkin
2 tablespoons olive oil
1 tablespoon chopped sage plus a few small leaves for garnish
2 cloves of garlic crushed or grated on a fine grater
a pinch of chili flakes
1/2 teaspoon salt
BABBETS
180 g soft butter
3 eggs
300 ml natural yogurt
1/2 teaspoon salt
300 g cake flour
1 teaspoon soda
1 teaspoon baking powder
100 g blue cheese - gorgonzola, stilton, roquefort or azure
3 tbsp walnuts, coarsely chopped
spiced, roasted and cooled pumpkin
honey for serving - optional
Make
Place the sliced pumpkin on an oven tray lined with baking paper.
Sprinkle the pumpkin with olive oil, add chili, garlic, sage and salt, mix.
Place in an oven preheated to 200°C bake for 15 - 20 minutes and cool.
Grind the soft butter in a mixer, add the eggs, salt and continue to mix until the ingredients are combined.
Add the yogurt, flour, baking powder, baking soda and mix again until the ingredients are combined.
Add the cooled pumpkin, finely shredded cheese and nuts to the mixture.
With a spatula, gently mix the batter with the ingredients just until combined.
Layer the muffin tin with papillons.
Fill the muffin tins with the batter, arrange the sage leaves on top and place in a preheated oven to 180°C.
Bake for about 25 - 30 minutes or until the so-called dry stick.
Serve warm or cold.
I recommend serving warm with a little honey, I like them best this way.
also check
Comments