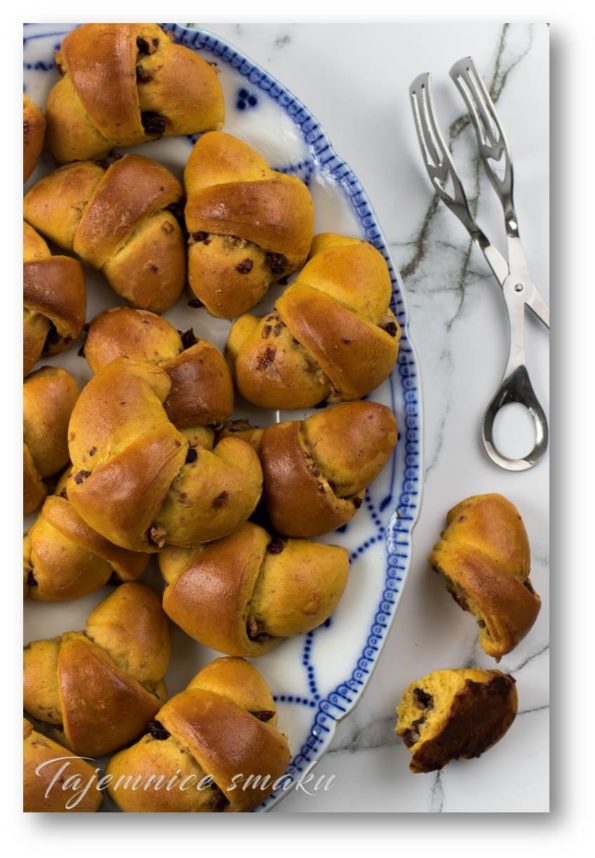 Golden, delicate and soft. These are pumpkin croissants with honey butter, walnuts and cranberries. What is honey butter? It's just heated up butter together with honey, just until the ingredients dissolve. such Spread the mixture on the dough before rolling the croissants.
Ingredients
GROUT
15 g fresh yeast
1/2 teaspoon of sugar
50 ml of lukewarm water
CAKE
leaven
550 g flour
80g of sugar
1 teaspoon of cinnamon powder
1/2 tsp ginger in powder
1/4 teaspoon of ground nutmeg
1/2 teaspoon of salt
300 g pumpkin purée*
50 g of melted butter
1 egg for the dough + 1 egg for spreading the croissants
FILLING
50 g of butter
50g of honey
100 g peeled walnuts
100 g of dried cranberries
Execution
GROUT
Mix yeast with sugar and water, leave for about 15 minutes in a warm place, until frothy.
CAKE
Mix all ingredients together in a large bowl dough, we knead for a while. Sophisticated cover the dough with a cloth and leave it in a warm place for about 1-1.5 hours until it doubles in size.
Divide the risen dough into two portions. On the pastry board, we roll out two pancakes, each with a diameter of about 30 cm. On both plates spread with honey butter and sprinkle with chopped nuts and cranberries. Pies cut diagonally into 12 triangles each and roll up croissants. Place on trays lined with parchment paper baking, cover with a cloth and leave in a warm place for about 1 an hour to rise.
Preheat the oven to 180°C, grease the croissants with a beaten egg and bake for about 15-20 minutes until golden brown. Croissants after baking we can frost, I didn't have time, we liked them so much.
FILLING
Heat the butter together with the honey only until it melts dissolve, mix. Chop nuts and cranberries. Like honey butter grease the dough, sprinkle with chopped nuts and dried fruit and roll up the croissants.
Enjoy!
* Pumpkin puree - pumpkin cut in half, remove the seeds along with the fibrous pulp, cut into small pieces. Place on a baking tray lined with baking paper bottom and bake at 160 ° C for about 30 - 40 minutes or until tender. After cooling, separate the pulp from the skin and blend to a smooth purée.
also check
Comments