Pumpkin granola for good morning. Homemade granola with honey, figs and lemon, the best idea for breakfast.
Preparing granola at home is very easy and quick. It allows you to control both the amount of sugar and the quality of the mixed ingredients. We can add flakes or nuts that we like, and which, in the case of food allergies, will not harm us. Dried figs and honey will make the addition of white sugar superfluous.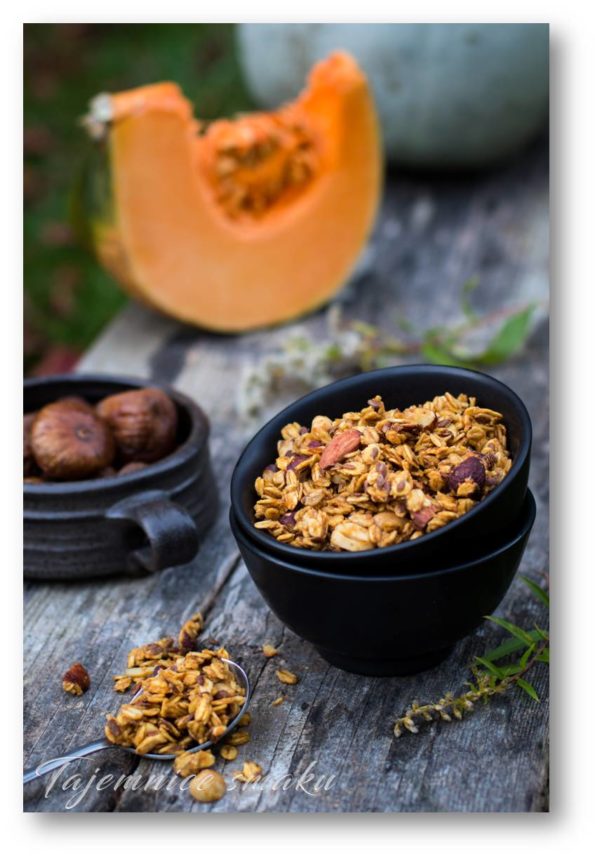 I also recommend the recipe for apple granola or  cocoa granola.
INGREDIENTS
300 g of baked pumpkin*
2 tablespoons of grapeseed oil
100 g of dried figs
1 tablespoon of honey
lemon juice and grated rind
400 g of cereal flakes (oat, rye, spelled)
1 teaspoon of cinnamon
50 g of linseed
100 g coarsely chopped nuts (cashews, almonds, walnuts hazelnut...)
EXECUTION
In a large bowl, mix the cereal, flaxseed, cinnamon, chopped nuts and grated lemon peel.
Cut the figs into pieces, pour over the lemon juice and leave for 15 minutes.
Blend the baked pumpkin, figs soaked in lemon juice, grape seed oil and honey to a purée.
Pour the mixture to the dry ingredients and mix thoroughly.
Heat the oven to 160C.
Line an oven tray with baking paper.
Spread the granola mix onto the prepared baking sheet.
Bake for about 30 - 45 minutes.
Every 10 minutes, stir the whole thing so that all the ingredients are evenly baked.
We cool in the turned off oven with the door open. After cooling, crumble in your hands and pour into a large jar.
*Cut the pumpkin in half, remove the seeds together with the fibrous one flesh, cut into small pieces. Place on a tray lined with paper for baking, skin side down and bake at 160°C for about 30 - 40 minutes minutes or until soft. After cooling, separate the flesh from the skin.
also check
Comments