<! - wp: heading ->
Yoghurt muffins with blueberries baked in jars
<! - / wp: heading -> <! - wp: image {"id": 3510, "sizeSlug": "medium", "linkDestination": "none", "className": "is-style-default"} ->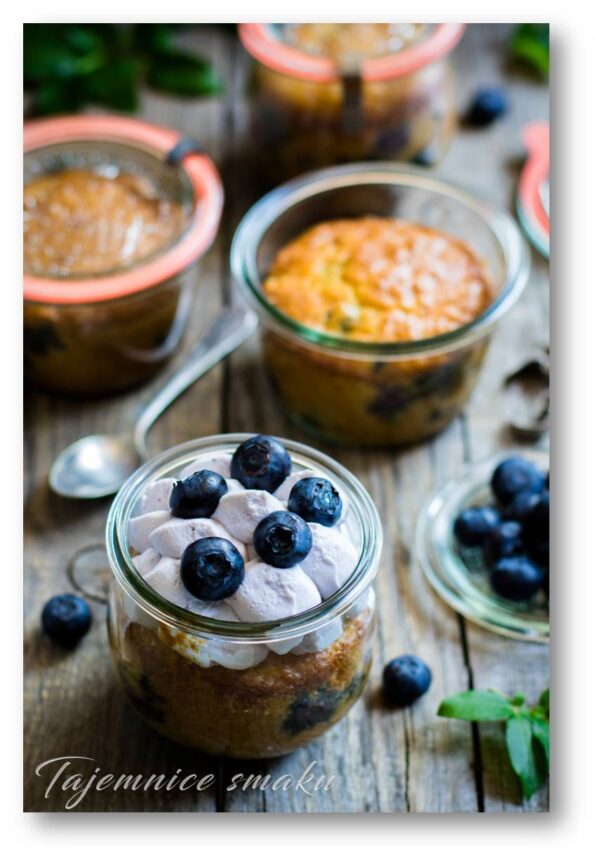 <! - / wp: image ->
How to bake and store a cake in a jar
Here are some practical tips:
1. Jars, lids, eraser should be sterilized (scalded).
2. Fill the jars with dough up to 2/3 of their height. The dough rises during baking, so we need to leave enough space to be able to close the jar afterwards.
3. Bake the dough without a lid.
4. The baking time depends on the capacity of the jars. I baked in jars with a capacity of about 350 ml, if we use smaller or larger jars, bake a little shorter or longer, respectively. To check if the dough is baked, it is worth carrying out the dry stick test (wooden skewer stick). If the stick is stuck in the center of the dough, the highest part of it is dry after it has been removed, it means that the dough is baked.
5. If the jars with the cake are closed quickly and efficiently, a vacuum will emerge in the center immediately after baking, and then the cake can be stored (in the refrigerator) for up to four weeks.
6. When opening, you should hear a characteristic hissing, just like when opening preserves. We are then sure that the vacuum is created and the dough is fit for consumption.
Ingredients
CAKE
250 g of flour (type 500)
1 teaspoon of baking soda
1 teaspoon of baking powder
170 g of natural yoghurt
a pinch of salt
100 g of sugar
100 g of butter
3 eggs
1 lemon - juice and grated skin
200 g fresh or frozen blueberries (frozen, do not defrost)
ADDITIONALLY
Butter for spreading jars
CREAM
300 g ricotta cheese
300 g of mascarpone
2 tablespoons of powdered sugar
2-3 tablespoons of blueberry syrup
BLUEBERRY SYRUP FOR CREAM
100 g of blueberries
1 tablespoon of sugar
1 tablespoon of water
1 tablespoon of lemon juice
Execution
CAKE
Melt the butter and cool it down.
In one bowl, mix together eggs, yoghurt, cooled down butter, lemon juice and sugar. In the second bowl, mix the flour, baking soda, baking powder, grated lemon zest and salt.
Grease the jars from the inside up to 2/3 of their height with butter.
Preheat the oven to 170 ° C
Combine dry ingredients with yoghurt mass, add fresh or frozen American blueberries and mix gently. Pour the mass into jars, up to 2/3 of the height. It is important to keep the edges of the jar clean. Put the jars (without caps) in the preheated oven and bake for about 30 - 40 minutes, in a dry stick.
We put on protective gloves and take the jars out of the oven. Still hot, we close right away. I used weck jars with elastic and springs, but you can bake cupcakes in ordinary jars with twist caps. Cool the dough in closed jars, then put it in the fridge when cooled.
A cake prepared in this way can be stored in the refrigerator for up to four weeks (apparently longer, but I have not checked it). Before opening, make sure that the dough has kept the vacuum well (you should hear a characteristic hissing noise when opening, similar to preserves).
We can serve cupcakes with cream and fruit.
BLUEBERRY SYRUP
Put all the ingredients into a syrup into a small saucepan. Simmer for 5-10 minutes until you get a syrup. Then let it cool and strain through a strainer.
CREAM
In a large bowl, mix all the ingredients and beat them into a cream, store in a covered bowl in the refrigerator.
Enjoy your meal!
also check
Comments