<! - wp: image {"id": 2085} ->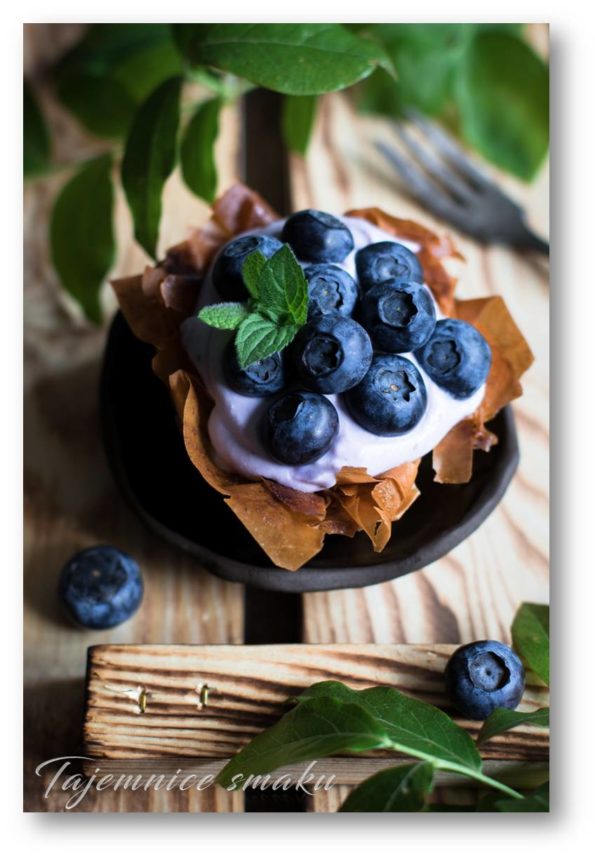 <! - / wp: image ->
Crunchy phyllo pastry, fresh blueberries and velvety purple cream - a delicious, simple summer dessert. In addition, it is very practical, because the cake and cream can be prepared the day before. Store the finished cream in the refrigerator and the baked baskets in a dry place. Just before serving, fill the baskets with cream and cover with blueberries. If someone does not have enough sweetness, the whole thing can be sprinkled with powdered sugar or with maple syrup.
For tips on how to handle filo pastry, see entry " Strawberries in cinnamon filo pastry basket... "
Ingredients for 12 pieces
BASKETS
300 g of filo pastry (1 packet)
60 - 80 g of melted butter
20 g powdered sugar
blueberries, as much as we like and fit in the baskets
BLUEBERRY SYRUP
100 g of blueberries
1 tablespoon of sugar
1 tablespoon of water
1 tablespoon of lemon juice
CREAM
300 g ricotta
300 g of mascarpone
2 tablespoons of powdered sugar
2 -3 tablespoons of syrup z blueberries
Execution
BLUEBERRY SYRUP
Put all the ingredients into a syrup into a small saucepan. Simmer for about 5 minutes - 10 minutes, until we get a syrup. Then let it cool and strain through a strainer.
CREAM
In a large bowl, mix all ingredients except the syrup and beat until cream. At the end of churning, tint with blueberry syrup. Store the finished cream in a covered bowl in the refrigerator.
BASKETS
Take the dough out of the package and gently roll it out onto countertop. Put one sheet, e.g. on the board and brush it with butter, sprinkle with powdered sugar, cover with a second sheet of dough. Similarly we proceed with the next sheets of dough, sticking with butter, 2 or 3 sheets each maximum.
Cut the greased and glued sheets into 12 squares. Squares should be large enough to they fit into the slots of the muffin mold and were still sticking out. Grease the slots of the muffin mold thinly with butter and line them with filo squares to form baskets and grease again with the remaining butter on top. Bake in preheated to 180 ° C oven for about 15 minutes until golden brown. When baked, take it out carefully molds and cool them on a wire rack.
Just before serving the dessert, fill the baskets with cream, cover with fruit, sprinkle with powdered sugar or pour maple syrup.
Enjoy your meal!
also check
Comments