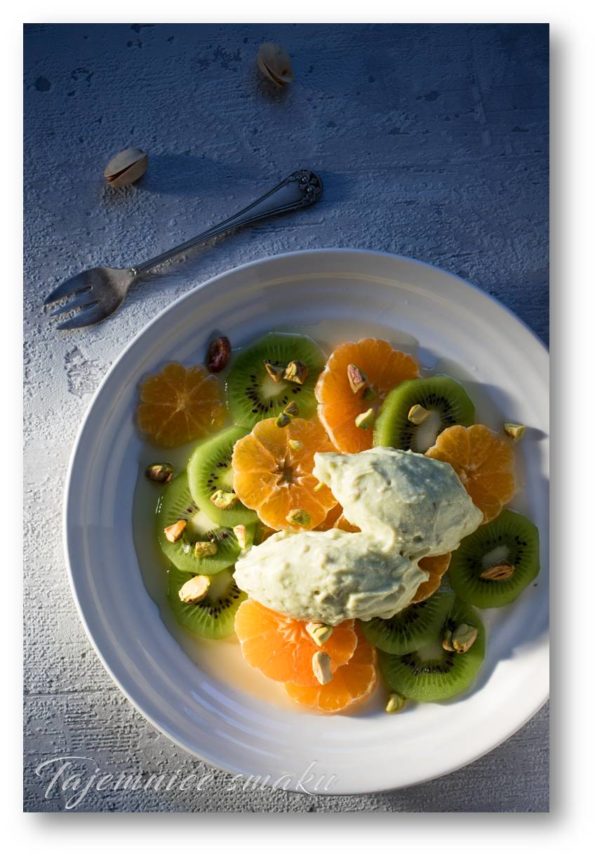 Avocado and ricotta mousse is worth preparing about 1 - 2 hours before serving. Avocado causes, despite the addition of lemon juice, that after a few hours the mousse slightly darkens on the surface. This does not change the taste of the dessert, but the appearance somewhat does.
Peel and slice the fruit just before serving. For dessert, in addition to kiwis and tangerines, we can use other favorite fruits.
The dessert can be served in a different way.
Ingredients
MUS
2 ripe avocados
3 tablespoons of lemon juice
70 g sugar
100 g ricotta
125 g 30% cream
1 teaspoon gelatin
2 - 3 tablespoons of hot water
CARPACCIO
kiwi
mandarins
3 tablespoons of lemon juice
2 tablespoons of honey
pistachios or other chopped nuts
Making
Pour hot water over gelatin, stir.
Peel the avocado, remove the seed. Mix the pulp with 3 tablespoons of lemon juice and sugar, at the end add ricotta and gelatin. In another bowl, whip the cream and gently mix with the avocado mousse. Pour into a salad bowl and refrigerate for 30 minutes.
Mix honey with lemon juice. Arrange slices of peeled kiwi and mandarin on plates, drizzle with honey sauce, sprinkle with chopped pistachios. Arrange portions of avocado mousse on top.
Tasty!
also check
Comments