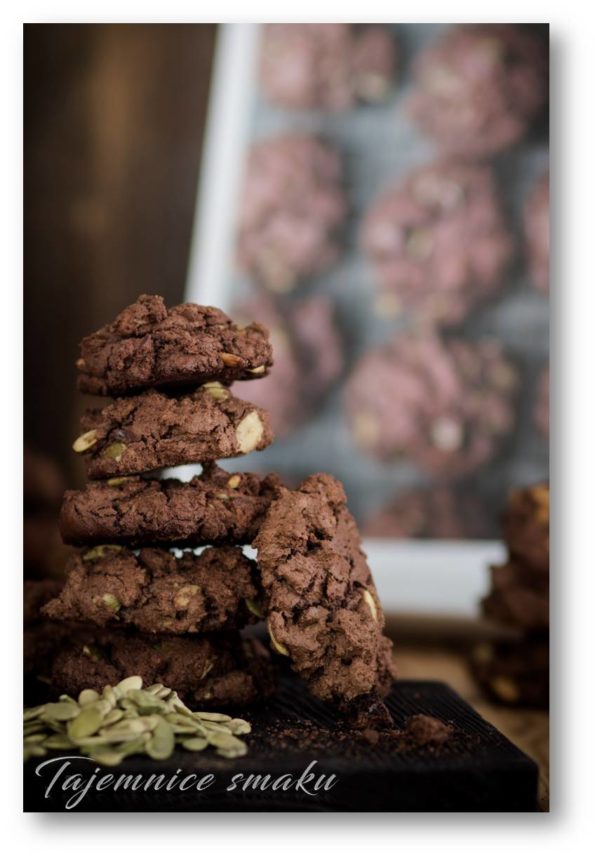 I found the recipe for chocolate pumpkin seed cookies in Nigella Lawson's book "At My Table". You can never have too many cookies, and these are delicious. Nigella herself wrote that this is probably her (so far) favorite.
Due to the fact that I wanted to bake the cakes immediately, I made a few minor changes. I didn't have cane sugar, vanilla extract and chocolate in lozenges at home. So I added regular sugar, vanilla sugar and various chocolates (even a piece of chocolate with oranges).
Nigella suggests that we can mix this cake for 3 days in advance and keep in the fridge covered, and unbaked biscuits, lined in mounds on paper to freeze.
Ingredients
75 g of soft butter
150g of sugar
1 egg
1 teaspoon of sugar or vanilla extract
125 g of flour
50g cocoa
1 teaspoon of soda
pinch of salt
125g dark chocolate
50 g of pumpkin seeds
Execution
Beat the butter until light and fluffy. We add an egg, vanilla and beat until ingredients are combined. In another bowl, combine the flour, cocoa, baking soda, and salt with a fork or a whisk. Gradually add the dry ingredients to the beaten mass, mixing on low speed.
Chocolate finely. Stir, already chopped with a spoon chocolate and pumpkin seeds with cake.
Line two baking sheets with baking paper and put them on spoonful of dough, do not flatten it.
Bake in batches in an oven preheated to 180 ° C for about 10 - 12 minutes, until the cookies set slightly and crack on top. They will be quite soft inside, but will harden as they cool. After removing the cookies from the oven, transfer them to a cooling rack.
Enjoy!
also check
Comments