<! - wp: image {"id": 1836} ->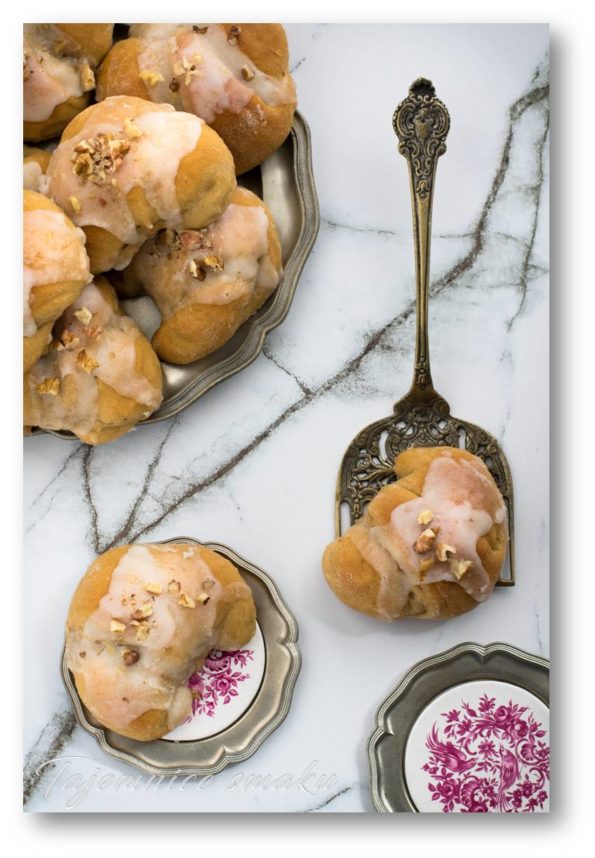 <! - / wp: image ->
Delicate, soft banana croissants stuffed with apples and walnuts.
The recipe comes from the blog a-CandicSdig> in events Baking for breakfast .
I really liked the idea of ​​baking together, and I liked the recipe for the croissants because I had all the ingredients at home.
Ingredients
CAKE
25 g of fresh yeast
120 ml of milk
500 g of flour (plus an additional 50 - 100 g if applicable need)
50 g coconut (or other) sugar
2 eggs
170 g banana puree (peeled - about 1.5 bananas)
100 g of melted butter
FILLING
2-3 apples - 550 g (the best gray reneta)
2 tablespoons of butter
2 tablespoons of coconut (or other) sugar
pinch of cinnamon
50 g of walnuts, chopped and roasted
IUCKER
2 tablespoons of melted butter
2 tablespoons of milk
200 g of powdered sugar
50 g of walnuts, chopped and roasted
Execution
CAKE
Prepare the leaven from milk, yeast, 3 tablespoons of flour and sugar and leave it for 15 minutes until it works. Add eggs, banana puree, remaining flour to the leaven and knead the dough. When the dough is combined, add the butter and knead it again for about 15 minutes, until it is smooth and shiny and starts to move away from the sides of the bowl. If necessary, we can sprinkle flour.
Cover the kneaded dough with a cloth and set aside in warm place for about 1-1.5 hours until he grows up. Then we divide the dough in half, form balls from each portion and roll them into a circle with a diameter of 25 cm. Cut the cake diagonally into 12 triangles, put 1-2 on each teaspoons of filling. Roll up the croissants, put them on a baking tray lined with paper baking, cover with a cloth and set aside in a warm place for about 30 minutes.
Bake in an oven preheated to 175 ° C for about 20 minutes. Frost while still warm and sprinkle with nuts immediately.
FILLING
Peel the apples, dice them and roast them in a pan with butter, sugar, cinnamon and nuts for about 10 minutes, until the apples are slightly soft.
IUCKER
Mix sugar, butter and milk until smooth. The frosting should be thick, because we lay it on hot croissants and underneath due to temperature, it should spread out and form a crust. When the frosting will melt on the croissants immediately sprinkle with chopped nuts.
Enjoy your meal!
Croissants for others:
Dorcia in the kitchen
= "https://www.facebook.com/193769981158109/photos/pcb.322178578317248/322178404983932/?type=3&theater"> Słodko - salty
= My little charms https://breafusz.pl -with-apple-stuffing /? fbclid = IwAR2zdBs99A1EBHjQ8PgqI308hO__gj7lc-MDmiJVANmM83QDSR3Q1m8BFNU "> Catcher in the kitchen
Secrets of Taste
Jaśminowa cuisine
Old Gary
Ala bakes and cooks
Madam Madam
Blon Dyśka


also check
Comments