Yeast rolls with grated apple, cinnamon, cardamom and raisins - Royal Cake
In German-speaking Switzerland, the Three Kings Cake (Dreikönigskuchen) is popular. This cake is actually sweet bread, formed from rolls in the shape of a crown.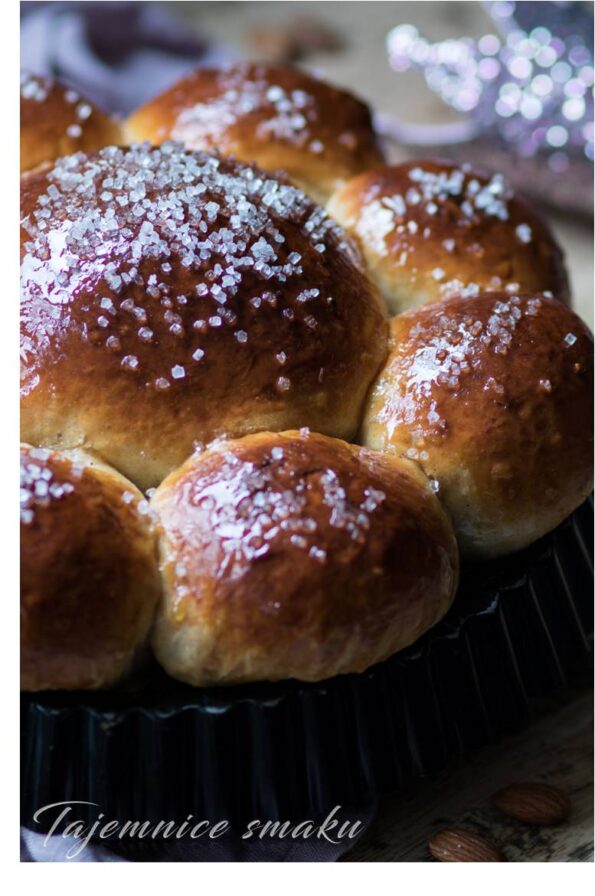 Traditionally, a whole almond is hidden in one of the rolls before baking. The person who finds a bun with an almond inside is the "king" of the day. The king gets a paper crown and has special privileges all day long.
The recipe for the Three Kings cake with grated apple and cinnamon was taken from Katharina Arrigoni's blog - BesondersGut
Schedule:
The day before we prepare gruel from flour and milk. The next day, make the proper dough, let it rise for about 45 minutes. After forming the balls, leave the dough to rise for an hour, and then bake for 30 minutes.
Ingredients
FOUR GRUM
125 ml of milk
25 g of wheat flour type 500
RIGHT DOUGH
flour gruel
100 g grated apple (large apple without skin)
2 tablespoons of lemon juice
60 - 80 ml of milk
10 g of fresh yeast
40 g of sugar
1 teaspoon ground cinnamon
a pinch of ground cardamom
475 g of wheat flour type 500
8g of salt
60 g of butter
100 g of raisins
almond  - 1 piece
ADDITIONAL
1 egg
1 tablespoon of milk
2 tablespoons of maple syrup
coarse sugar or almond flakes
EXECUTION
FOUR GRUM
The day before, boil the milk and flour in a saucepan, stirring all the time, preferably with a small whisk, until the mass thickens.
Cool, cover and store in the fridge until the next day.
RIGHT DOUGH
Grate the peeled apple on a coarse grater and mix with lemon juice.
Put all the ingredients except butter and raisins in the bowl of the robot and knead at low speed for 6 - 8 minutes (initially we only add 60 ml of milk). The dough will still be quite dry, but that's how it should be.
Knead another 5 - 8 minutes on a higher level and during this time add cold butter piece by piece.
If necessary, add the remaining 10-20 ml of milk towards the end. A well-kneaded dough should be smooth and soft.
Finally, add the raisins and knead them into the dough by hand.
Cover and leave to rise at 21-23 °C for about 45 minutes.
Mix the egg with the milk.
Put the risen dough on a lightly floured surface and separate 8 pieces of dough, each weighing 80 g.
Form the rest of the dough into a large ball and place it on the baking paper.
Weigh eight pieces of dough into balls and place them evenly - not too close - around the large ball.
Remember to squeeze a whole almond into one of the balls.
Smear the first time with the egg mixture and cover with a large bowl.
Let it rise for an hour.
Just before baking, brush again with the remaining egg and milk.
Bake in a well-heated oven at 190°C for about 30 minutes.
Smear with maple syrup while still hot and quickly sprinkle with coarse sugar crystals or almond flakes.
I wonder who will be "King"?
also check
Comments