<! - wp: image {"id": 1899} ->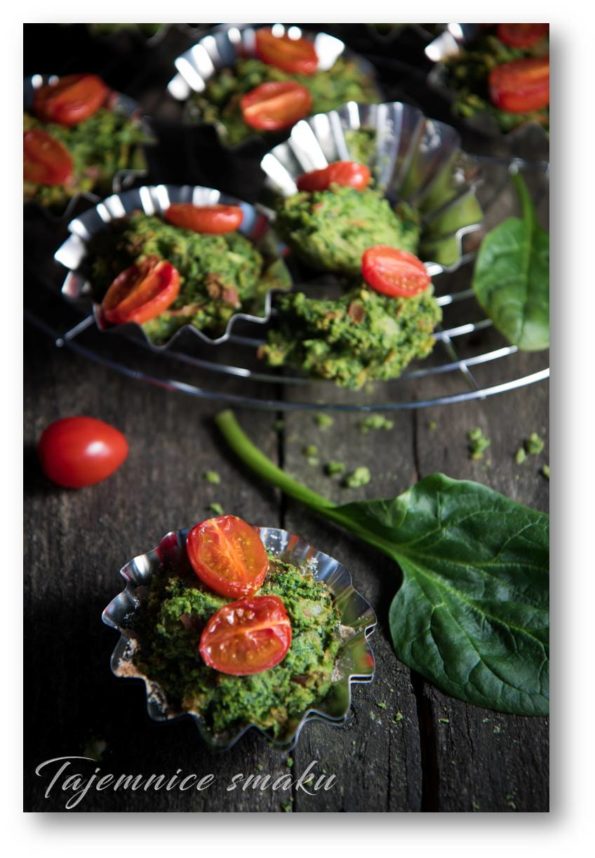 <! - / wp: image ->
Gluten-free, green and dry cupcakes are perfect as an appetizer, snack, lunch or dinner. We can also pack them in a box and take them with us to the world, to school, or to work.
The addition of bacon is optional. If you skip bacon, add one more onion and 3 teaspoons of coconut oil for frying.
Ingredients
200 g of spinach leaves
1 onion
1 clove of garlic
100 g of smoked bacon
4 large eggs
1 teaspoon of baking powder (gluten-free) or tartar
50 g of coconut flour
freshly ground nutmeg, quantity as desired
salt, pepper
12 tomatoes cocktail party
grease for lubricating molds or paper curlers
Execution
Cut the bacon into small cubes and fry on a slow fire in a dry frying pan. When the bacon fat is slightly melted, add the diced onion and fry until the onion is translucent. At the end of frying, add the chopped or crushed garlic, mix it and after 3 minutes remove the pan from the burner.
Chop the spinach very finely and mix it with the eggs. Shell we also blend together with the eggs to a homogeneous green mass. We add cooled bacon with onion and garlic, coconut flour, baking powder, season salt, pepper and nutmeg.
Grease the cupcake molds with fat or line them with paper muffins and fill them with spinach mixture up to 3/4 of their height. Put the halves of the cherry tomatoes on top with the section facing up. Preheat the oven to 180 ° C. Bake the muffins for 20 minutes, serve them while still warm, but they also taste very good when served cold.
Enjoy your meal!
also check
Comments