Orange cupcakes with cottage cheese and chocolate. Muffins, cupcakes or maybe cupcakes?
Cottage cheese muffins with oranges and chocolate. Fluffy and moist, with pieces of chocolate and orange... simply delicious. They are quick and easy to prepare, and a fork is practically enough to mix the ingredients.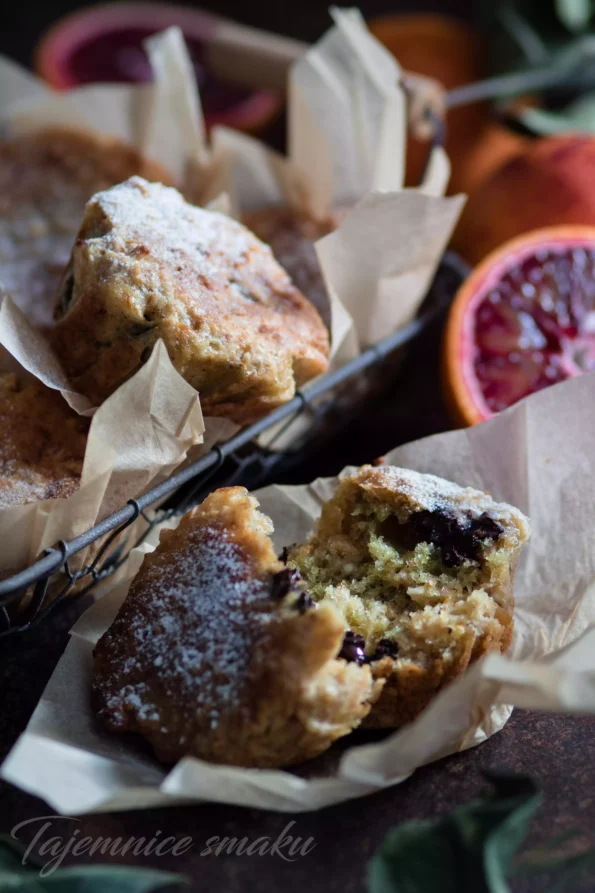 Orange cupcakes with cottage cheese and chocolate. Muffins, cupcakes or maybe cupcakes?
Muffins and cupcakes, what's the difference? I thought nothing, but it turns out that there are differences between these sweets. According to many industry sources, these pastries differ from each other in terms of ingredients, method of kneading, appearance, structure of the baked dough, as well as the method of decoration. I admit that for me it's a bit complicated and fortunately I don't have to worry about naming at home ;-)
From the given proportions, we will bake 12 cupcakes. You can use pre-made muffin cups or make your own. Here is the instruction how to make muffin cups< /p>
INGREDIENTS
100 g oat flakes
juice and grated peel from 2 oranges - about 100 ml of juice
250 g of semi-fat cottage cheese
2 eggs
100 ml of oil
100 g of sugar
150 g cake flour
1 teaspoon of baking powder
1 teaspoon of soda
pinch of salt
50 g of candied orange peel - I recommend homemade orange peel< /li>
100 g chocolate 70% - chopped or chocolate pellets
EXECUTION
In a bowl, mix the oatmeal with the grated peel and orange juice, set aside.
Grease the cottage cheese with a fork and add to the oatmeal mixture. Stir and set aside.
In another bowl, mix the flour, baking powder, baking soda and salt.
Whisk the eggs and sugar briefly, add the oil and beat until combined.
Add candied oranges to the curd mass, and then add to the egg mass. Stir briefly with a fork to combine the ingredients.
Add flour with additives and pieces of chocolate. Stir again with a fork only until the ingredients are combined.
Line the muffin tin with paper cups.
Fill the molds with the dough and put them in the preheated oven to 175°C.
Bake for about 25 - 30 minutes or until the so-called. dry stick.
Cooled cupcakes can be sprinkled with powdered sugar, glazed or decorated with your favorite cream.
also check
Comments