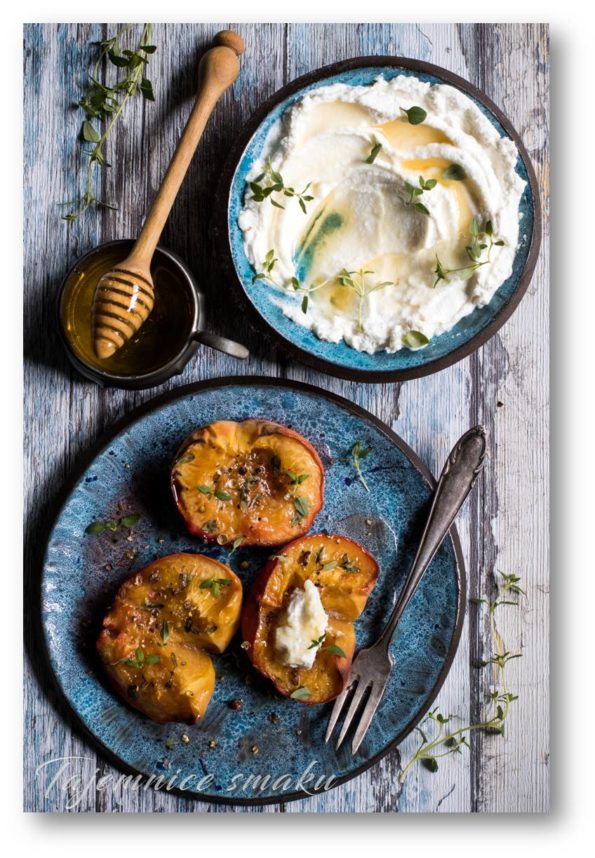 Grilled or baked peaches go well with salads, with cheese, e.g. goat cheese, can also be the basis of a dessert. This time I found a recipe* for baked peaches with honey ricotta and thyme and pepper. It's fast, easy and unique tasty summer dessert. Ricotta cheese can be replaced with vanilla ice cream we can also sprinkle with honey and sprinkle with thyme and pepper.
Ingredients
8 peaches
6 tablespoons of liquid honey
several sprigs of thyme
250 ​​g ricotta cheese
1/2 teaspoon of colored or black peppercorns
Execution
Pepper is thrown into a mortar and crushed into thick pieces.
Wash the peaches, cut them in half, remove the pits. Place the halves of the fruit, skin side down, on a baking tray lined with baking paper. Sprinkle with 3 tablespoons of honey, sprinkle with half a portion of thyme and fresh mashed pepper. Bake in an oven preheated to 180°C for approx 15 - 20 minutes, until the fruit releases a little juice.
Mix the ricotta cheese with 1 tablespoon of honey. Baked peaches serve with honey ricotta, pour the whole thing with honey and sprinkle with the rest thyme leaves and pepper.
Enjoy!
I also recommend a similar dessert < strong>Ricotta with white chocolate, figs and anise syrup
*Inspiration - "Aromen Feuerwerk" Katharina Küllmer
** Bowls from Kasia's studio
also check
Comments