<! - wp: image {"align": "center", "id": 1526, "className": "is-style-default"} ->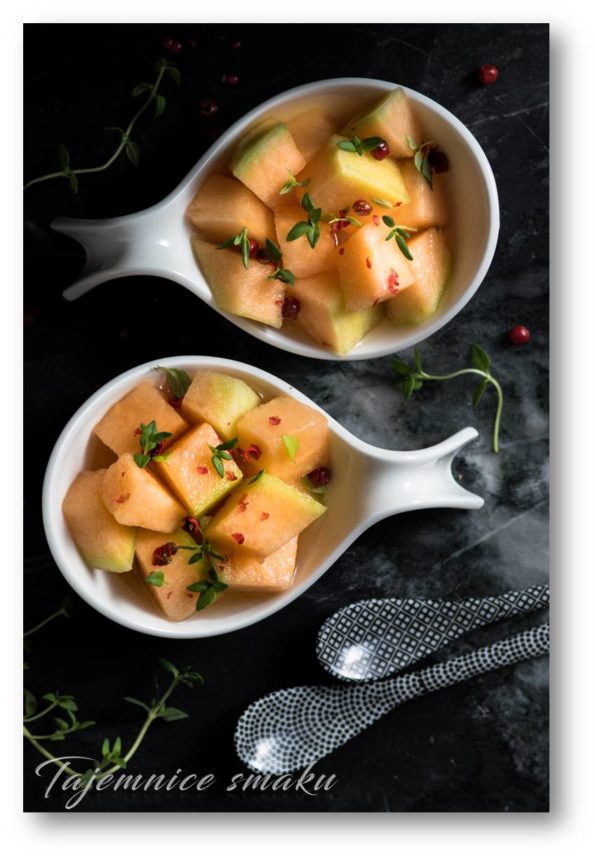 <! - / wp: image ->
Melon is a wonderful fruit, it is low in calories and perfectly hydrates the body. It is rich in vitamins and minerals. The best melon is the ripe melon. When choosing a melon in the store, pay attention to the peel so that there are no stains on it. Smell the fruit by the stalk, when ripe it gives off a sweet, characteristic smell. However, if we do not have much choice, because we are not in sunny Italy, for example, choose the healthiest fruit and put it on the windowsill for a few days, it should mature.
Melon prepared according to this recipe can be eaten as a snack or dessert. It tastes great with cream or vanilla ice cream. It can also be an addition to a salad, it goes perfectly with arugula.
Ingredients - 2 servings

1/2 ripe melon about 500 g
1 teaspoon of red pepper grains
2 sprigs of fresh thyme
40 ml of dry white wine
1 tablespoon of honey
Execution
Peel the melon, hollow the flesh with stones, cut it into bite-sized pieces. Beat the pepper lightly in a mortar. Tear the leaves from the thyme twigs. Mix the wine with honey.
Arrange the melon pieces in cups or glasses, pour the wine with honey and sprinkle with pepper and thyme. We serve immediately.
Enjoy your meal!
also check
Comments