Bürli, or traditional Swiss rolls with grape yeast water. Homemade yeast rolls, perfect for breakfast
What is yeast water? It is a natural leavening agent for baking bread, which is made on the basis of fruit (also vegetables) with the addition of sugar or honey and water. Under the influence of fermentation, the water begins to foam and acquires a yeasty aroma, then it is ready for use.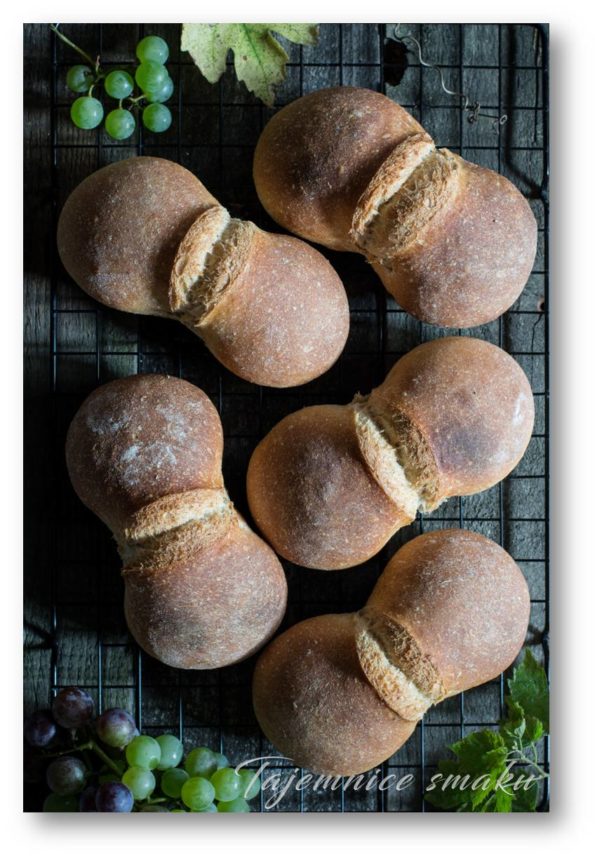 Bürli are traditional Swiss rolls with grape yeast water following Zorra. We bake them together in Amber bakery.
INGREDIENTS
GRAPE YEAST WATER
50 g of grapes
10 g of honey
200 g of water
LEAVEN WITH YEAST WATER
150 g of water yeast
150 g wheat flour type 550
RIGHT DOUGH
Leaven with yeast water
2 g fresh yeast
50 g wholegrain flour
450 g wheat flour type 550
260g of water
12g of salt
EXECUTION
GRAPE YEAST WATER
The grapes and other ingredients are placed in a bottle, closed and kept at room temperature for 2 - 3 days.
We shake the bottle every day and open it every day.
If after two days the water does not start to foam, put the bottle in a warmer place - temperature 25 - 30°C.
When the water foams, it's ready to use.
LEAVEN WITH YEAST WATER
In a bowl, mix yeast water (without grapes) with flour.
Cover the bowl and leave it overnight at room temperature.
RIGHT DOUGH
The next day, add leaven, flour, water and yeast to the bowl of the robot.
Knead the dough for 4 minutes and let it rest for 15 - 30 minutes.
After this time, add salt and knead for 6 minutes.
Cover the dough and leave it in a warm place for 90 minutes, folding it twice every 30 minutes on a floured board.
The risen dough is divided into 10 equal portions.
Each piece of dough is shaped into rolls and placed on a baking tray lined with baking paper.
Place the buns in pairs next to each other so that they connect to each other.
Cover with a cloth and leave to rise for about 1 - 1.5 hours.
Heat the oven to 230°C.
When the oven is hot, put a heat-resistant bowl of water in it.
Bake the bürli for 30 minutes, after 15 minutes open the oven door for a moment so that the steam can escape.
Transfer the baked bürli to a cooling rack.
Bürli on blogs:
Acacia blog
Gucia's kitchen
Kitchen door
My academy of taste
My Little Magic
Gardens of Babylon
Taste secrets
Kitchen retreats
also check
Comments